Gone Girl's, Rosamund Pike Covers February Issue Of Vanity Fair Magazine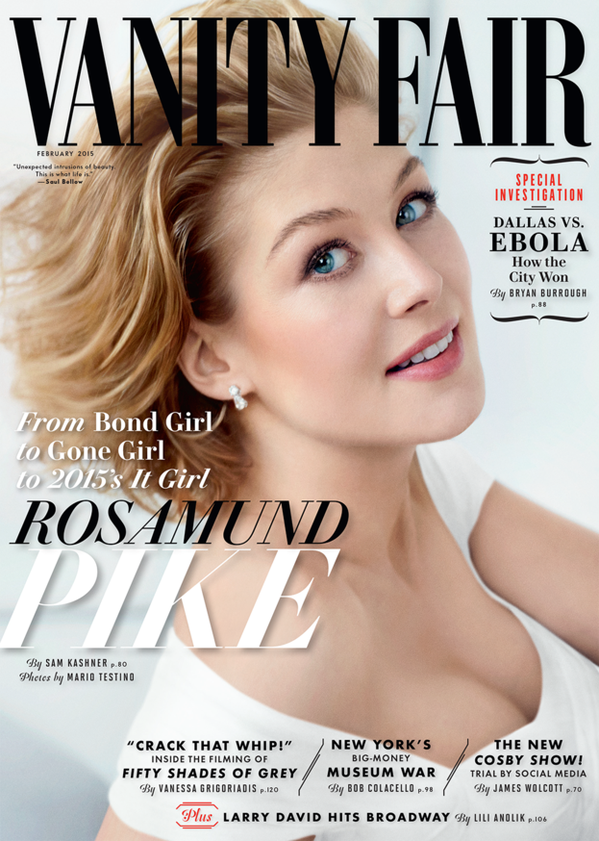 Estimated Reading Time: <1
Rosamund Pike Gives Vanity Fair That Gone Girl Scene by the Numbers: 36 Sheets, 450 Gallons of Blood, and 36 Pairs of Underpants.
Rosamund Pike tells Vanity Fair contributing editor Sam Kashner that filming Gone Girl was the most grueling experience she has ever had on set. "I spent more time in front of the camera on that film than in my entire career to date, because he's shooting five to six hours of footage a day, and over a hundred days shooting that mounts up," Pike tells Kashner. They shot the scene in which Pike slits the throat of Neil Patrick Harris, who plays her savior/captor, Desi Collings, 36 times; the set had to be remade for each take. "Think of the 36 showers they had to take, to wash the fake blood off," Kashner writes.
"I told them to rehearse it for three days," Fincher tells Kashner, "as we're pumping five gallons of blood out of Desi's throat." They choreographed it for a week, then filmed it with 36 sheets, 450 gallons of blood, and 36 pairs of underpants on hand.