Muhammadu Buhari Slumps At APC Rally In Calabar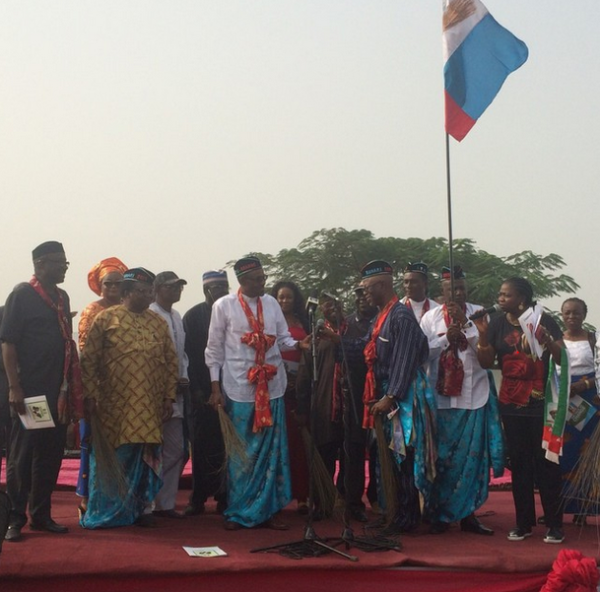 Estimated Reading Time: <1
Presidential candidate of the All Progressives Congress, APC, General Muhammadu Buhari, caused a stir in Calabar, the Cross River State capital, yesterday, when he slumped as he was climbing to the podium to give his speech thereby lending credence to concerns being raised lately over his health condition.
However, four persons including security aides rushed to the octogenarian former military Head of State, raised him up and led him to the podium where he eventually gave his speech.
African Herald Express a local newspaper reports that at the venue of the rally reported that Buhari looked weak and frail while giving his speech and throughout the event.
During the incident, there were hushed discordant voices from the crowd of party supporters indicating that the General was probably not in good health condition.
According to eye witnesses who spoke to Herald Express, under condition of anonymity, "From the way he sat when his convoy arrived, it was obvious that the man does not appear very strong. It could be stress arising from old age as well as fatigue from campaign trips to Rivers, Akwa Ibom, Imo and now Cross River State."
In a related development, Secretary of the Media and Publicity Sub-Committee of the Peoples Democratic Party, PDP, Presidential Campaign Organisation, Femi Fani-Kayode, has stated that Buhari is unfit to govern Nigeria.
Lately, a lot of concerns have been raised over the health status of Buhari whether he is in good health to withstand the hectic nature of nationwide campaign activities and programmes, as well as the stressful daily demand of the office of the president in an event that he becomes Nigeria's president.
Only January 1, 2015, National Chairman of the Unity Party of Nigeria, UPN, and Founder of the Oodua People's Congress, OPC, Dr. Frederick Fasehun, faulted claims in some quarters that Buhari, is the Messiah Nigerians have been waiting for, alleging that Buhari was suffering from an undisclosed ailment that could make the nation worse for it.
"We challenge Buhari to declare the true state of his health. What ailment is he nursing in his vital organs? To prevent history from repeating itself, to the frustration of his zone, his kinsmen and indeed all, Nigerians should ask this General to subject himself to an independent medical assessment" he said.
Similarly, a notable cleric whose prophetic insights are taken seriously in Nigeria and beyond for their pinpoint accuracy, Apostle Johnson Suleiman, Founder/President of Omega Fire Ministries with headquarters in Auchi, Edo State, has listed Buhari's health issue as among what God revealed to him as part of 2015 prophecy. He warned that "Buhari's health needs attention."
But both the General and his campaign team have maintained sealed lips over these allegations, preferring to forge ahead with the campaign irrespective of the health concerns being raised by the public.