"Jonathan Will Be The Last PDP President To Rule Nigeria" – Lagos Pastor Predicts GEJ's Defeat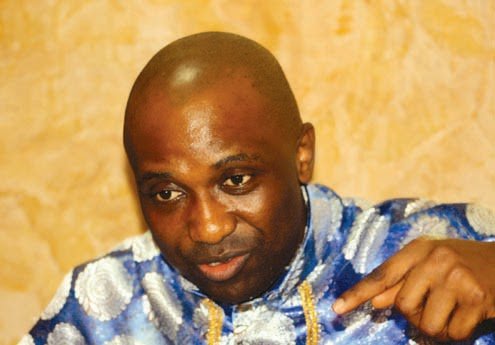 Estimated Reading Time: <1
Popular Lagos pastor and founder INRI Evangelical Spiritual Church, Elijah Babatunde, has joined Catholic priest Ejike Mbaka to predict the defeat of Mr. Jonathan in the coming elections.
"President Goodluck Jonathan will be ?the last PDP president to rule Nigeria," Mr. Babatunde, who is the church's Primate, said.
?In an interview with Daily Independent newspaper, the cleric who had many negative prophecies as the regards the country in 2015, said even though it will not be a landslide victory for the opposition, the President will lose.
"No matter what, Jonathan will be the last PDP President in Nigeria. I don't see a landslide victory in the presidential election. To be frank, neither the victory of Jonathan or General Muhammadu Buhari can guarantee peace except we pray well," he said. "Jonathan will not take Nigeria to the Promised Land. Let us pray against the death of an ex-President."
Mr. Babatunde predicted that "There will not be election in some states".
He said the elections will be characterised by advanced rigging as "both PDP and APC will share victory across the country particularly in the South-West and the North".
The cleric asked Nigerians to observe a seven-day prayer in January to avert crisis that may plunge the nation into serious confusion during and after the polls, while stating that the Independent National Electoral Commission, INEC, will be cajoled to rig the elections.
"There will be several gimmicks to cajole the INEC to rig the election. Prayers must be offered so that the commission will not lose some of its staff to accident or attack before and during the election. E-voting will not work. There will be ballot box snatching and stuffing during the election,?" he said.
?He stressed that international communities and some heads of states will attempt to work against the re-election of Mr. Jonathan and asked the President to "be wary of diplomatic rows with foreign countries".
He urged Mr. Jonathan to fight corruption and rescue the April 14, 2014 abducted Chibok girls.
Mr. Babatunde predicted election violence if Nigerians don't pray and asked the President to commit his and his wife's health to prayer.
On insecurity, Mr. Babatunde prophesied that the bombings and kidnapping of school children witnessed in the northern parts of Nigeria will extend to the South-West of Nigeria.
"I see flames from bombings in several parts of the country, including the South-West and more abduction of school pupils. Efforts should be intensified by security operatives to forestall that. Boko Haram will come up with different strategies to attack the nation.
"There are three groups of Boko Haram in Nigeria already. Only prayers can weaken their strength. Countries pretending they want to assist Nigeria to curb Boko Haram are not our friends. If they are allowed, they will create more problems for the nation," he said.
The cleric asked President Jonathan to change his security details while stating that the Chief of Staff to the President will have issues with his boss and some ministers.
Speaking on the governorship elections, Mr. Babatunde predicted said the APC "committed a blunder" with the choice of Akinwunmi Ambode as governorship candidate for Lagos State.
"PDP will spring surprises and shock APC. If PDP works hard, the party will win Lagos governorship; however, the party's candidate, Jimi Agbaje, needs prayers," he said.
?
The primate said ?APC will face an uphill task to retain Edo and Oyo states. He said that Governor Abiola Ajimobi might lose to Rashidi Ladoja of Accord Party, AP.
"In Rivers State, if PDP underrates APC, the latter will win, though the election will be marred with violence. Attempts by the opposition parties to defeat Governor Ibikunle Amosun in Ogun State will not materialise," he continued.
He also predicted that ?If APC elects the right governorship candidate, the party will dislodge PDP from Ondo State in 2016.
"PDP will win Delta and Cross River states but there will be crisis in Abia and Ebonyi states even though the party will win there.
"APC will win in Sokoto. PDP will find it hard to retain Kaduna State because there will be serious crisis there. Kano State will be difficult for PDP to win, so also Katsina State. PDP will win Jigawa and Taraba. PDP has messed up in Kwara, the victory will go to APC," he stated.
?He warned the former Minister of State for Defence, Musiliu Obanikoro, of political disappointment; he said Mr. Obanikoro should pray.
The primate said he foresees a rise in the Nigerian stock exchange with the effect of devaluation of naira continuing till August as Minister of Finance, Ngozi Okonjo-Iweala, will not be able to make appreciable impact on the economy.
He claimed the Governor of Central Bank of Nigeria, Godwin Emefiele, will have crises and may be denied a second term.
"Some banks will collapse and one of the dead banks will be resuscitated. Flour, sugar and fuel prices will be increased in the year. There will be serious crises in OPEC and the Controller-General of Customs and the group managing director of the NNPC will be removed. State of the nation," he said.
He asked Nigerians to pray against the recurrence of Ebola in Nigeria and prophesied that more building will collapse in Lagos in 2015.
"Let traditional rulers in the South-West pray against infernos that may engulf their palaces," he said while urging journalists and Nollywood stars to pray against sudden death.
"Also, Oba of Benin, Emirs of Nupe and Zaria should pray against sickness. Some universities will be shut because of cultism and some Vice Chancellors will be queried. We need to pray to avoid plane crash in Lagos, Abuja and Kano airports. We need prayers against ocean surge in Nigeria and other African countries this year".
Mr. Babatunde predicted an outbreak of polio, cholera and fluid outbreak caused by poultry products.
He finally said "National Union of Road Transport and Workers (NURTW) will face serious infighting and killings and court actions. We must pray against bloodshed among their members in different states. Some states in Nigeria will collapse from 2018, owing due to excessive borrowing from overseas".