Mark Amaza: Deconstructing Buhari's Massive Northern Popularity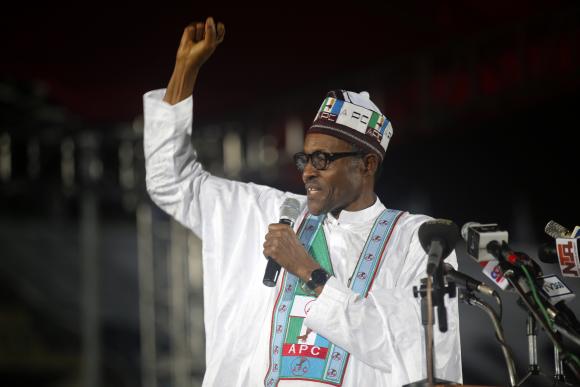 Estimated Reading Time: <1
The name General Muhammadu Buhari came firmly into national consciousness about 31 years ago when he became the Head of State after a military coup deposed the then Nigerian president. Despite spending only 20 months in power, his is still one of the most recognizable names today in Nigerian politics.
This is especially important considering the fact that despite the retired general not holding any office since Nigeria's return to democracy in 1999, he has been a regular fixture in three out of the past four presidential elections and will be a candidate in the fifth one this February, pulling in a consistent 12 million votes, apart from the 2007 elections where he got 6 million out of 36 million votes cast in total. It is expected that he will outdo his previous performances going by the strength of his party, the opposition All Progressives' Congress (APC) and the disenchantment of many Nigerians with the incumbent administration of President Goodluck Jonathan.
In past elections, General Buhari has won the majority of votes in at least 12 out of the 19 states in the North (the exceptions being Benue, Kwara, Kogi, Nassarawa, Plateau, Adamawa and Taraba states) especially in the North-East and the North-West. This is unlikely to change this year, as his cult-personality status, the envy of every politician, consistent over such a wide region, is intact.
Often, I get asked by friends and acquaintances from the South on why is Buhari, popularly called "The Peoples' General" is massively popular in the North, and that gave me serious food for thought.
I will attempt to explain the context of Buhari's massive popularity in the North. Please note that I am no expert in any of the social sciences such as anthropology and sociology; this means that the opinions here are those of a layman.
So here are the factors I believe explain for his popularity. These factors work hand in hand with each other:
Desire for True Change: It does not take much of a trained mind to note the wide disparity in the economic and socio-political conditions between Northern Nigeria and Southern Nigeria. The North, especially the North-East and North-West lags behind in about every human development index – literacy and education rates, maternal and infant mortality rates, poverty levels, etc. The return to democracy heightened expectations that there would be a turnaround in the livelihoods of the average person in the North; however, it has not turned out so. The people have long been frustrated with governments before the start of the Fourth Republic, and have elected governments squandered their goodwill, exacerbating that frustration. For these people, a Buhari government offers hope that there will be true change.
A Class Warfare: As the divide between the rich and the poor, or rather, those in government and those being governed widens, so has the resentment by the governed for those who are or have been in government. Those who are or have been in government are viewed as corrupt and out-of-touch with the woes of the common man, which is why they are not moved to make efforts to change their situation – more often than not, this is right. This resentment can be clearly seen during the post-election crisis in 2011 where the houses of some emirs and prominent individuals came under attack, allegedly for supporting President Jonathan and still keeping them in their oppression. In places like Kano, many people had their vehicles destroyed simply because the rioters felt they were of the class of oppressors.
This is where General Buhari stands out – for someone who has held numerous positions from Petroleum Minister to Military Administrator of a state to Head of State, his simplicity is a breath of fresh air to the common man in the North. He has been seen diligently waiting in fuel queues, something those who have held the same offices he held would not be caught dead doing. He is not known to assets home and abroad whose source cannot be explained. This is why he is trusted so much, because this is someone who had every opportunity to be part of the clique of elites that has held the North down but has instead chosen to identify more with the masses. You would not blame them for believing and placing their faith in him that he can become the president and not abuse the office for his personal enrichment.
Ethno-religious Sentiments: The states that have consistently given Buhari his votes are predominantly Muslim, which led the newspaper Daily Trust in its analysis of the 2011 elections to say that he seems to win his votes only from those of his ethnic and religious demography. Let me present this excerpt from this blog post by what the writer termed as the terminal decline of the North.excerpt
That is to say, if another candidate with the integrity of General Buhari that is neither Muslim nor Hausa/Fulani was to step forward to run for the presidency, it will be really hard for him to galvanize votes from Buhari's support base at present. To buttress my point, former Head of State, General Yakubu Gowon spent 9 years in office, which is more than the time Buhari spent in all his public offices. He is also seen as a man of integrity and one that was not given to corrupt, and has spent a lot of his time in the past two decades organizing inter-faith prayers for Nigeria. Yet, he does not enjoy the popularity Buhari enjoys, being seen as the man who will bring change to Nigeria. While it may be argued that he has not presented himself for office, his faith is not one to win him massive popularity of Buhari's proportions.
Let us consider another scenario: in a hypothetical matchup between the former Secretary-General of the Commonwealth, Emeka Anyaoku, who is widely regarded as a man of unimpeachable integrity and former Vice President Atiku Abubakar, who was robbed of support from many in his presidential attempt because he is perceived as corrupt, the 12 million votes and more that always go to Buhari will go to Atiku.
This is because the people of these parts, despite their intense desire for change, are not willing to go outside the limits of their ethno-religious bias.
Of course, this is not to say that everyone who votes him in this region votes him because of this.So these are the factors that form the context through which Buhari is massively popular in the North, in my own opinion.
Hope this has been of help to all those who wondered why he is so popular in the North.
____________________________________________
Article written by Mark Amaza and republished with permission from the writer and originally published on his blog
Disclaimer
It is the policy of NewsWireNGR not to endorse or oppose any opinion expressed by a User or Content provided by a User, Contributor, or other independent party.
Opinion pieces and contributions are the opinions of the writers only and do not represent the opinions of NewsWireNGR.