Jonathan Promises To Stabilise The Nigerian Naira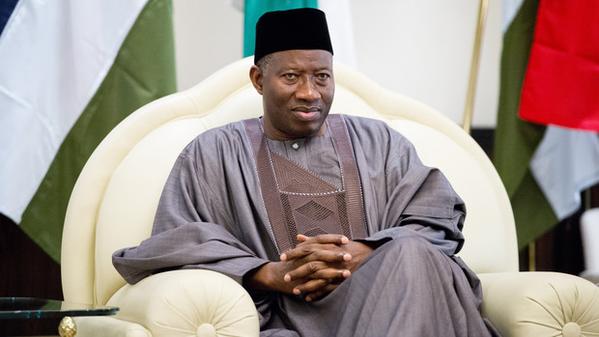 Abuja-President Goodluck Jonathan on Thursday reassured that his administration would ensure stability in the value of the Naira by striving to take away speculative behaviours that caused market exchange pressures.
Jonathan, who gave the assurance in a nationwide New Year broadcast in Abuja, said government would continue to promote policies that ensured economic stability.
He said his administration would also continue to lay the foundation for a vibrant economy to attract more significant Foreign Direct Investment.
''We will continue to build and maintain a healthy external reserves position and strengthen fiscal buffers.
''We will ensure the Naira remains strong, and gives foreign investors the clarity and certainty that they need, to guide future investment decisions.
''We will continue to improve our payment systems and strengthen risk-based supervision mechanism for Nigerian banks to ensure overall health and stability of the banking system.
According to him, Federal Government will be introducing a broad spectrum of financial instruments to boost sector-specific enterprise areas in agriculture, Micro, Small and Medium Scale Enterprises (MSMEs), manufacturing, and oil and gas.
He said these instruments were meant to enhance the nation's aggregate supply capacity, reduce poverty, promote job creation and increase the general well being of the people.
''These efforts and other measures being spearheaded by relevant Ministries, Departments and Agencies, are geared to ensure a secure future for Nigeria and create a much more prosperous country, where people live more peaceful and fulfilled lives,'' he said.
The President also enumerated some of the achievements of his administration in the past four years.
According to him, the federal government has rehabilitated and expanded the nation rail transportation network, and successfully privatised power generation and distribution.
He disclosed that his administration had significantly reformed and increased local participation in the oil and gas industry, and improved nationwide access to potable water from 57 percent in 2010, to 70 percent at present.
''We have also made significant progress in improving access to primary, secondary and tertiary education by building and equipping more schools, including special Almajiri schools, and establishing additional universities to ensure that each state of the nation now has at least one Federal University.
''Our national economy maintained a steady growth rate of close to seven per cent in the past four years and millions of fresh employment opportunities were created for our people as a direct consequence.
''Recently, we launched the Youth Employment in Agriculture Programme (YEAP) and the $100 million dollars Government and Donor Fund for Agriculture Finance in Nigeria (FAFIN) to fast-track the positive transformation of our agricultural sector,'' Jonathan said.
He further revealed that the Federal Government's Youth Employment in Agriculture Programme (YEAP) targeted 750, 000 market-oriented young agricultural producers.
He said that 100 million dollar Fund had been earmarked to provide affordable long-term financing to support the development of small and medium agribusinesses in the country.
The President stated that this was in addition to a N50 billion Farm Mechanisation Support Fund set up by the Central Bank to establish 1,200 agricultural equipment-hiring enterprises.
He maintained that both funds would become fully operational this year.
''Policies and programmes such as these to boost agricultural production remain topmost on the agenda of this administration,'' he added.
He said the 2015 budget which had been presented to the National Assembly for approval, was targeted at deepening the nation's efforts at becoming a non-oil economy.
He said the budget also included measures to ensure that the downturn in the price of oil did not affect the nation's development plans.
''We are adjusting our financial processes to safeguard our economy.
''We are also taking steps to ensure that the poor and the low and medium income earners do not bear the brunt,'' the president said.