Prof. Osinbajo Kicks Off 'Walk The Ward' Initiative With A Surprise Visit To Obalende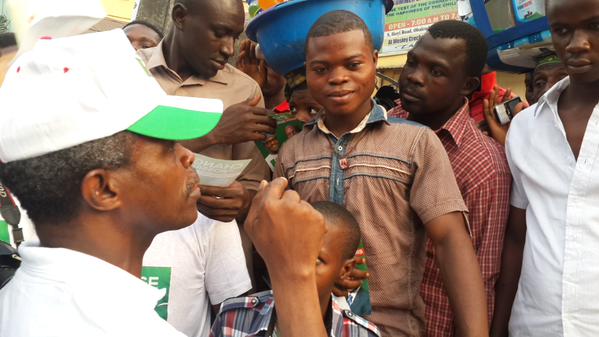 Estimated Reading Time: <1
APC's Vice Presidential candidate, Prof. Yemi Osinbajo on Saturday evening kicked off his 'walk the ward' campaign initiative when he and his campaign team stormed the ever busy Obalende town in area of Lagos. He was seen talking to market women and business people one after the other as he introduced himself and presented his party's agenda to them.
The petite Professor moved around freely with very light security details and his campaign volunteers who all white shirts and fez caps which bore his picture and that of General Buhari. Prof. Osinbajo also got to meet the oldest man in the Moshashi community of Obalende.
The APC Vice Presidential candidate has been working very hard to deliver the party's agenda come 2015 as he has also taken his campaign to a shopping mall and a BRT bus in the past few days.