Sheikh Gumi: Criticising Buhari Is An Act Of Blasphemy In The Eyes Of His Supporters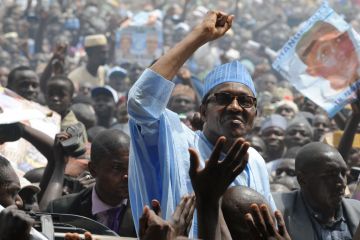 Estimated Reading Time: <1
My attention was drawn to a series of deliberate misrepresentations and distortions of particularly my comments during the visit of the Kaduna chapter of Oha-na-ze Ndigbo in some newspapers. For the records, I am not a politician and I don't have sympathy for any of the political parties.
My commitment for those that are fair and following what I do is always to ensure that the rule of law prevails in the conduct of all politicians and for the major stakeholders to avoid overheating our already saturated polity. If some of my comments, which some considered nasty and against their political interest and pursuit, will ultimately alert our largely unenlightened youths and subsequently prevent the looming bloodshed I foresaw, then the abuses and allegations of compromise against my person will be my own sacrifice to this nation.
It does not matter the malicious opinion of anybody against whosoever did anything for the sake of Allah because He knows the secrets of our hearts and He is the ultimate judge. I am always very conscious of everything I write and I will always accept responsibility no matter who feels offended. As an Islamic scholar the supporters of Jonathan or Buhari should not expect me to embark on campaign or to compel people to vote a candidate they don't want. My responsibility is to guide and alert the nation based on what I know and my conviction, while the people have the final say. In the process, like all mortals, I can be wrong. What is important in Islam is to act strictly for the sake of Allah.
I have not said, as reported during the groups visit to me, that General Buhari is also corrupt as purported and erroneous disseminated. In any case, it is not my duty to determine whether anybody is corrupt or not or to even pass a damning verdict on him.
May I state, however, that the content of my recent posting as clear as it is was publicized by some media outfits to deliberately mislead the public about my position, many viewed it as against Buhari or an indirect endorsement for Jonathan. The records too are very clear. There is no Nigerian leader I persistently criticize and censor like Jonathan because of the deficiency in his leadership to address many serious national issues today, in some part of the country . criticizing Buhari will inevitably be seen as an act of blasphemy in the eyes of his supporters. They see anyone that speaks against what they believe in as a Jonathan man. This pathetic situation has to be reversed because the moment someone presents himself for leadership he is liable to criticism and answerable to people before God.
The fact that there is religion in politics and politics in religion is the reason why I believe it is a duty for me to be consistent in addressing issues of public interest and to ensure that no human blood drops for the sake of anybody's ambition, including the ambition of Jonathan and Buhari.
My comments on avoiding violence during the election is not only limited to the supporters of Buhari as mischievously being insinuated but extended to the supporters of Jonathan as well. In fact that is why before the two parties held their presidential conventions I repeatedly urged the parties to do away with the candidatures of Jonathan and Buhari because of the potential danger of doing so. But now that they didn't listen and produced the duo, it is obvious that only one of them will eventually become president in 2015. At this point I must say, therefore, that we must prepare our minds and accept the outcome of the election as much as it is conducted under reasonable fairness. This is better than the risk of losing one human life because of the ambition of Jonathan or Buhari. If lives are worth sacrificing why is it that the children of our politicians did not participate in the post- election violence of 2011! At this note I will call on INEC and the Security agencies to conduct themselves appropriately without partiality to diffuse post -election tension and Violence. I also call on the public to be patient no matter the level of provocation and injustice because at the end of it all and due to our collective prayers Allah (SWT) will provide the way out for Nigeria.
I am compelled to give this additional comment because I know that there are many reasonable people that misunderstood my position because of the manner my comments are being reported. May Allah protect us all and guide us aright. Amin
____________________________
Signed
Sheikh Dr. Ahmad Abubakar Gumi
Disclaimer
It is the policy of NewsWireNGR not to endorse or oppose any opinion expressed by a User or Content provided by a User, Contributor, or other independent party.
Opinion pieces and contributions are the opinions of the writers only and do not represent the opinions of NewsWireNGR.