Nigerian Police Warn That Insurgents Are Planning To Bomb Apapa Seaport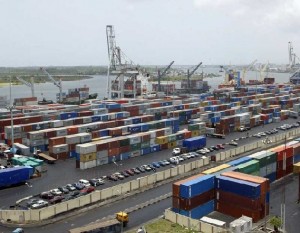 Western Ports Command of the Nigeria Police has raised the alarm over threat by the Boko Haram sect to bomb Lagos, with the nation's seaport in Apapa as its likely target.
Commissioner of Police in charge of the Western Ports Command, Mrs Hilda Ibifuro-Harrison stated this at the inauguration of new executives of the Maritime Reporters' Association of Nigeria (MARAN) in Apapa, Lagos.
She stated that based on intelligence report it received three months ago, the deadly Islamic sect could be planning to bomb Lagos and possibly target the seaport.
"We are not taking the threat lightly at all and we encourage all stakeholders who visit the port to keep their eyes and ears open in case of the activity of the sect," said Ibifuro-Harisson who was represented by the Assistant Commissioner in charge of administration, Salem Machree.
She said as part of measures put in place to check the threat, the Police had beefed up security within and around Lagos including the port environment, just as she disclosed that Police would remain alert and vigilant at ensuring that the violent sect did not hit the ports.
It will be recalled that at least four persons were confirmed dead, when two explosions suspected to have emanated from an Improvised Explosive Device (IED) went off near the Folawiyo Energy Depot on Creek Road, Apapa on June 25 this year.
In a video release in July, leader of the violent Islamic sect, Abubakar Shekau, claimed responsibility for the two explosions, according to Agence-France Presse reports.
Apapa is the major port of the city of Lagos, Nigeria, and is located to the west of Lagos Island, across Lagos Harbour. It is also one of Nigeria's 774 Local Government Areas.
Apapa is the site of a major container terminal. The terminal was owned and operated by the Federal Government of Nigeria until March 2005, when it was sold to the Danish firm A. P. Moller-Maersk Group for about US$1 billion. Adjacent to the container port is the Tin Can Island port, which has ro-ro facilities.
It also houses some refineries like the Bua Group.  It also has a big banking software company, Neptune Software PLc.