Opinion: Kano Blast And Nigeria's Epileptic Intelligence Services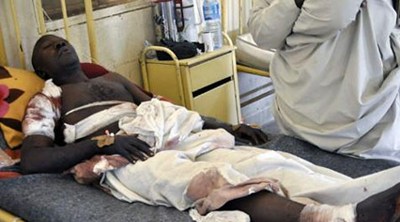 Estimated Reading Time: <1
During his appearance before members of the National Assembly last week, the Inspector General of Police, Sulaiman Abba said the Police invaded the NASS because the force had an intelligence report that Reps would invade the National Assembly to cause chaos. So, acting on that, they filled up the complex with every amugbo called Police. Fine. Also last week, the State Secret Service, SSS said they had Intel that there is an office APC is using for clowning INEC voters card. And they acted like air. These two recent events show the prowess of our services in gathering intelligence and swiftness in acting on them, when it is political.
On Friday in Kano, just like many other days in the past, when major, devastating disaster would happen, their intelligence gathering died. You begin to wonder if it is not the same guys who often flaunt intelligence report as an excuse to carry out many nefarious acts. It now dawned on me that their gathering of intelligence expertise only resurrect when they are on political duty that will warrant display of brutal force against helpless citizens.
Some days back, the FBI picked up two "would be" bombers connected with the Ferguson riots. The two men described as reputed members of a militant group called the New Black Panther Party, were arrested in the St. Louis area in an FBI sting operation. The men were suspected of acquiring explosives for pipe bombs that they planned to set off
during protests in Ferguson. They are just at the planning stage when they nip them. That is how a serious security service should be proactive.
I have never seen our security services been proactive to stop attacks. They are just bunch of trigger-happy fellows. Even when their own barracks, bases are to be attacked, they knew nothing of it. In this age and time, securing people and the society has gone pass the stage of numerical strength. It is done scientifically. And if you can't get the real deal, you will be beaten to the game. It took the US ten good years to get Osama bin Laden in. Those were ten years of rigorous intelligence gathering. It took three years alone to get just the real name of the close allie that will lead them to Osama's message carrier. When you deal with terrorists, you need to roll up your sleeves. It calls for serious work.
If we really want to fight terrorism, there is an urgent need for the overhauling of our security agencies especially the Police and the secret service. It is shameful that as big and wealthy this country is, we don't have functional CCTV cameras in our major cities and institutions. Terrorism is very difficult to fight. But we are not even anywhere near fighting it. The forces we have now are just those with "gra gra", reactive mentality. Those saddled with securing our lives are only good in wielding guns and tormenting innocent citizens. Unfortunately, the world has moved past that stage.
We must begin to see this issue as a serious one. Everybody. The leaders and the lead. This is because If a free society cannot help the many who are poor, it cannot save the few who are rich.
My condolences to those who lost loved ones in the Friday blast in Kano. May almighty Allah grant dead ones eternal rest.
_________________________________________
(Comrade Abdulateef Usman Abiodun, a journalist, writes from Lagos via
comradecestcesse@gmail.com/07037657426)
Disclaimer
It is the policy of NewsWireNGR not to endorse or oppose any opinion expressed by a User or Content provided by a User, Contributor, or other independent party.
Opinion pieces and contributions are the opinions of the writers only and do not represent the opinions of NewsWireNGR.