Onabanjo's Daughter Resigns From Governor Amosun's Cabinet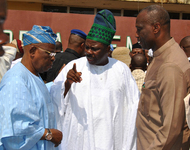 The daughter of the first civilian governor of Ogun State, the late Chief Bisi Onabanjo, Ms Bukonla Onabanjo, has resigned from the cabinet of Governor Ibikunle Amosun, over allegation of witch-hunting due to her relationship with the former leader of the All Progressives Congress (APC), Chief Olusegun Osoba.
In her letter of resignation, dated November 18, addressed to Governor Amosun, a copy of which was made available to the Nigerian Tribune in Abeokuta, on Wednesday, Onabanjo said her resignation took effect from December 1, 2014.
The former TESCOM boss explained in the two-page letter that she was never ready to sacrifice her over 41 years long standing relationship with Osoba for no reason.
She explained in the letter that the governor had accused her that she had "a soft spot" for Osoba and thanked Amosun for the opportunity given her to serve the good people of Ogun State.
The letter reads: "In spite of Your Excellency's accusation that I have 'a soft spot' for Chief Olusegun Osoba, I wish to state that I have never undermined your office or the government of Ogun State. I enjoy warm, cordial and healthy relationship (as every member does) with Chief Olusegun Osoba.''
Onabanjo, until her resignation on Monday, was the chairman of the state Teaching Service Commission (TESCOM).