Poyet Hopes To End Chelsea's Unbeaten Run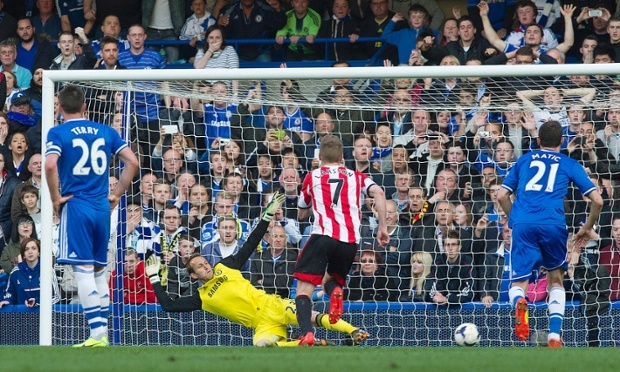 English Premier League leaders, Chelsea FC are currently unbeaten in every competition this season but that is set to be history if Gus Poyet's plans come to fruition on Saturday when Sunderland faces Chelsea in the premier league.
Chelsea seats comfortably at the zenith of the EPL table six points ahead of second placed team, Southampton. Sunderland is currently 14th on the table with 13 points from 12 games but have been unbeaten in their last three fixtures.
Sunderland was the team that ended Chelsea's 77-match unbeaten premier league home record when they beat the Blues 2-1 last April. Chelsea will be seeking revenge but the Black Cats manager, Gus Poyet is plotting further damage to the ambitions of the Blues this season.
"If you win every game, you get stronger and you get that feeling in the team that you can play badly and still win and at least get a draw," the Uruguayan told the press.

"But the next team is the one who has the opportunity to stop them somehow and everybody is going to want to take that chance – and now the opportunity is for us", he said.
Speaking about the chances of Chelsea going through the current season without experiencing defeat, Poyet said:
"There are plenty of games to go, I don't believe the aim for Chelsea right now is to not lose a game.

"I think it is to win every trophy and if they need to lose one or two games. I don't think they are going to be too bothered about it."