Nigerian Government Unveils New Naira Notes To Commemorate Centenary Celebration [Look]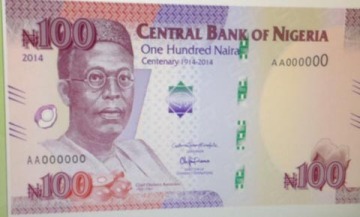 GOVERNOR OF CENTRAL BANK, MR GODWIN EMEFIELE, DISPLAYING THE NEW N100 NAIRA COMMEMORATIVE CENTENARY BANKNOTE AFTER THE UNVEILING IN ABUJA ON WEDNESDAY (12/11/14)  [Photo Credit: PUNCH]
President Goodluck Jonathan has commended the Central Bank of Nigeria for releasing new N100 note to commemorate the country's centenary celebration.
Speaking at the official unveiling of the notes shortly before the commencement of the Federal Executive Council meeting, President Jonathan recalled that commemorative N50 notes were also introduced to mark the nation's 50th independence anniversary.
He said that the cost of producing the new notes as well as where it would be printed would be made known when a memo to such effect was presented to the FEC in due course.
Vanguard reports that the ceremony was witnessed by Vice President Namadi Sambo, Central Bank of Nigeria (CBN)Governor, Godwin Emefiele, as well as ministers.
Commenting on the new note, the CBN governor Mr Emefiele said it was designated for the commemoration 100 years of nation hood.
According to him, countries like Morocco, Russia and Costa Rica had done same to mark special events in their history.
The CBN governor said the new note has the most advanced security features in the world.
He said the design platforms on which the note was made to include security, durability, attractiveness, cultural heritage and transformation.
Minister of Finance and coordinating Minister for the Economy, Dr. Ngozi Okonjo-Iweala, commended CBN for its effort on the notes.
According to her, the QRC feature on the back of the note was laudable.
The code, if scanned with iPhones or iPads, leads users to a website where the nation's history could be accessed.
The minister also raised questions on the amount the CBN will use to print the new notes and whether it would be done locally.