Boko Haram: Nigeria Is Fighting A Religious War – Ayo Oritsejafor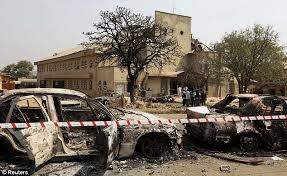 Estimated Reading Time: <1
The President of the Christian Association of Nigeria (CAN), Pastor Ayo Oritsejafor says Nigeria is fighting a religious and ideological war in the north-east where insurgency has taken a firm grip in the last six years.
Pastor Oristejafor said Christians have suffered more in the region as insurgents, driven by what he called the 'Wahabist ideologies', attack communities in the north east, Channels Television, reports.
Oritsejafor, who spoke on Wednesday in Abuja during the National Executive Council (NEC) meeting of CAN, said "territories that have fallen under the control of Boko Haram are predominantly populated by Christians, a sign that Christians are no longer safe in those parts of the country.
"What is happening there is unacceptable to us. Christians are the main victims. We are not saying that other people are not affected. But Christians are the ones affected more. All the places where Boko Haram has foisted their flags are dominated by Christians.
"They have taken over Mubi in Adamawa state which is dominated by Christians. Somebody will now tell me this is not religion. Who is fooling who? Nigerians should accept that we have a problem", he said.
The clergy also called on local and international community and religious bodies to help Nigeria in wining the fight against terrorism.
Apart from urging Christians to intensify prayers for the victims of the insurgency in the north east, the CAN leader said the military needs a superior ideology to defeat insurgency.
"All well meaning Nigerians must pray and continue to pray. We must pray. I will not join those condemning our security agencies. They are Nigerians. Women are losing their husbands and children are losing their fathers. I want to challenge the military. They can do better. They must continue to fish out those sabotaging their efforts. Those people should be expelled. They are in all the security agencies.
"No matter the intention you have, if you have people working against you, you will not succeed. There are too many people in the system working against the system. Why should these kind of things be happening? Innocent people are being killed. It is too much. Enough is enough!
He further noted that the ongoing insurgency in the north is a religious and ideological war that needs the support of Islamic scholars and the military to succeed.
"I want to make an appeal to our Muslim clerics and Muslim political leaders to come together and see how they can help us solve this problem. They have the solution. There are some Muslim scholars Boko Haram members respect. To a large extent, that is the only way out.
"As members of CAN, we are ready to meet with them. I believe in progressive dialogue. This is my strong appeal. I want to appeal to those at the grass root. This connects to the leaders. The leaders should talk to those at the grass roots. They should give reliable intelligence to our security agents. Please, do not harbour these people. They are not fighting for you. Expose them", he said.