Rinsola Abiola: Meet The APC Presidential Aspirants (2): Rabiu Musa Kwankwaso [@Kwankwaso_rabiu]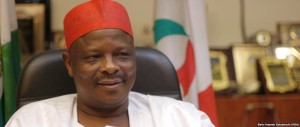 Previously, we discussed Atiku Abubakar and as promised, here's what you need to know about Rabiu Musa Kwankwaso.
Introduction
Rabiu Musa Kwankwaso is the current governor of Kano State, the most populous Nigerian state according to the 2006 census.
Born in Madobi Local Government Area of Kano on 21st October, 1956, Kwankwaso has, over time, built a distinguished career in public service. His tenure has also recorded notable achievements in Kano State.
Educational Background
His education began at Kwankwaso Primary School, from where he proceeded to the Gwarzo Boarding Senior Primary School and the Kano technical College. He then attended the Kaduna State Polytechnic, where he obtained both his National Diploma and Higher National Diploma in Civil Engineering. He also earned postgraduate degrees in the United Kingdom from Middlesex Polytechnic, Loughborough University and the University of Nottingham.
Career and Politics
A civil engineer by profession, Kwankwaso worked with the Kano State Government for approximately 17 years, rising to the position of Principal Engineer. His foray into politics officially began during his undergraduate years, during which he was involved in campus politics and held key positions in the Kano State Students Association. He, however, went into mainstream politics in 1992 when he contested to be a legislator in the Federal House of Representatives. He won this election and later emerged as Deputy Speaker of the House of Representatives. He was also one of those who respresented Kano at the 1995 Constitutional Conference.
Once the military regime was finally over in 1998, he once more threw his hat in the ring, this time vying to occupy the office of the governor of Kano State. This bid was successful, and he served in this capacity from 1999-2003. His re-election bid at this point was, however, unsuccessful; undeterred and with his resolve to serve still strong, he proceeded to serve Nigeria in various capacities (such as Minister for Defence) until 2010, after which he contested again for governorship in Kano State. In 2011, he returned to the Kano State Government House with even greater ideas and brilliant plans which have made his current tenure easily one of the best in Nigeria.
What to Expect if Kwankwaso Becomes President.
Some of the achievements recorded during Kwankwaso's tenures (first and second) include;
• A free education program which has greatly reduced the number of out-of-school children in the state
• Rural electrification
• Economic empowerment programmes for the people of Kano, with strong emphasis on gender equity and women empowerment
• Automatic post-graduate scholarship for all Kano State indigenes who graduate with a 2.1 and above, usually in higher institutions outside Nigeria. It is worthy of note that there are currently thousands of students benefitting from this in various countries across the world.
• Unprecedented infrastructural development in Kano, despite the Federal Government's deliberate attempt to frustrate the state by not releasing its federal allocation
• Renovation of higher institutions, with updated equipment, libraries, etc
• The establishment of the North-West University with state-of-the-art facilities
In light of the aforementioned, it goes without saying that the level of genuine positive transformation (and not the type which is only spoken of but neither seen nor felt) that has been recorded and within only four years will be implemented on a national scale. Key hallmarks of the Kwankwaso administration include accountability and the prudent manner in which state resources are managed.
With respect to being prudent, it should also be noted that his tenure has, despite the lack of funding from or by the PDP-led Federal Government, been able to offset a large percentage of loans accrued during the previous administration. With corruption, lack of accountability and an inexplicable affinity for being wasteful being issues which currently plague the Federal Government, a man who has proven his strength in these areas is therefore prime presidential material.
Next, we discuss Sam Nda Isaiah.
__________________________________________
Rinsola Abiola is an advocate for youth and women inclusion in politics, and can be reached on twitter via @Bint_Moshood.
Disclaimer
It is the policy of NewsWireNGR not to endorse or oppose any opinion expressed by a User or Content provided by a User, Contributor, or other independent party.
Opinion pieces and contributions are the opinions of the writers only and do not represent the opinions of NewsWireNGR