2015: Enugu Youths Cautions Aspirants To Distance Self From Chime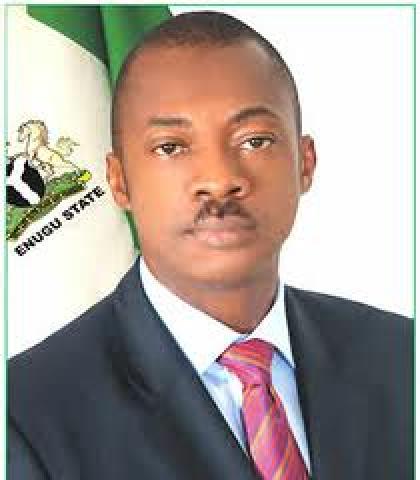 As the nation inches towards the 2015 general elections, Better Enugu Youths Assembly, BEYA, has counseled politicians serious about winning any elective position in the State to steer clear the endorsement of Enugu State Governor, Barr. Sullivan Iheanacho Chime as a plague is avoided. This is as the Assembly promised to interpret Chime's support for any candidate as an indication that such candidate would under-develop the State like Chime did.
Speaking through a press release issued in Enugu and jointly signed by its President, Mr. Val Eke and Secretary-General, Mr. Agbo Ngwu, BEYA enumerated the numerous undoing of the Sullivan Chime led administration in the State which, it noted, has led to massive debilitating of the influence of the State and an impoverishment of its people.
While describing the governor as the worst thing to have happened to Enugu State in recent times, the youths warned politicians not to send the wrong signals about themselves by relying on Chime who they called a political liability and not an asset. The youths further vowed to mobilise their over one million members scattered across the state and beyond to vote against any political office seeker in the state who chooses to go against their counsel by relying on Chime's backing.
BEYA's statement reads thus, "The youths of Enugu State have been so pauperized and have become disenchanted by the administration of Barr Sullivan Chime. We are left with no option but to take our destiny in our hands through the viable platform of BEYA. It is clear to everyone that the present administration would by 2015 leave the State far worse than it met it in 2007.
"As a result, we, who have a greater stake in the Enugu project cannot sit idly by and watch someone who clearly does not mean well for the State to go as far as installing his anointed candidates to continue with his bad style of governance post 2015. Neither can we watch him proceed to the Senate where he will quietly embark on 6 to 12 months medical trip abroad and in the process deny the people of Enugu West the needed representation ably and effectively provided by the Deputy Senate President, Chief Ike Ekweremadu.
"We have seen how poor the choices made by Sullivan left Enugu State. As such, we do not trust his ability to wisely choose who can put Enugu State on the path to development.
"We as Enugu youths have never had it this bad. We sorrowfully recall the death of some of our comrades who lost their lives just because they, alongside others fortunate to have escaped the governor's onslaught, were peacefully protesting against the astronomic increase in the tuition of Enugu State University of Science and Technology, ESUT. During the peaceful demonstration, Governor Chime used security agents to go brutal against the students, thereby killing and maiming some of them in the process. We are aware that when same happened in Lagos State, Governor Babatunde Fashola did not kill any of them. Yet, he ultimately yielded to the demand of students of the Lagos State University.
"Sullivan Chime has allowed his quest for victimization and political rivalry to lead him into liquidating businesses set up by his predecessor, Chimaroke Nnamani. The cavalier manner in which he went about this is still scaring a lot of investors from coming to invest in the State. These were businesses which created lots of jobs for youths in Enugu. Yet, Sullivan in a bizarre quest to act out the idiom of biting the finger that fed one, ran the viable businesses aground, sacrificing employment opportunities and inflow of investments in the process.
"Governor Chime went further to play out his disdain for commerce and business by demolishing the popular Old Park Market without providing an alternative. This has forced many indigenes of the State back to their villages since their means of livelihood cut off. As if that is not enough loss of employment opportunities already, we also note with disappointment the notice given by his government to the management of DREAM FM for the station, owned by his opponent, to shut down over unfounded allegation of violation of Enugu State Capital Territory development plan.
"Due to his poorly thought-out policies and the diversion of meagre state resources to prosecute personal wars of attrition against those who helped him get into and consolidate his grip on state power, the Chime's administration has depleted the State's revenue and resources without having the slightest clue on how to rejuvenate the State's Internally Generated Revenue, IGR, which was very healthy at the time he assumed office as governor.
"With the state of the State's treasury, his lazy and unthinking government has resorted to inflicting high taxes on business establishments still struggling to survive in the State's harsh business terrain. We recall with sadness, the case of a certain Indian coy, Ash Trade Company, which categorically left Enugu for Ogun State on account of the high taxes it is being subjected to by the present government in Enugu State. This painfully caused hundreds of our members their jobs! Is it still a wonder why Enugu tops the chart in the comity of states with the highest level of unemployment?
"Before Sullivan became governor, his predecessor had worked hard to make sure that Enugu indigenes head major federal and state government establishments in the state. Today, instead of Sullivan making efforts to install qualified Enugu sons and daughters as head of these institutions, we now have people from Anambra, Imo and Abia calling the shots in UNN, UNTH and the National Orthopaedic Hospital in Enugu respectively. The situation is so bad to the extent that it is believed that his present Chief of Staff, Mr. Victor Nnanna Atuonwu, is not an indigene of Enugu State. Which governor does that?
"We are highly sour that Sullivan has brought our beloved state to a new low where its 2014 budget will be a paltry N98.8bn as against the N150bn, N400bn, N450bn being passed by Anambra, Akwa Ibom and Delta States. Even Kebbi State has its 2014 budget being put at N140bn, thus making mockery of that of Enugu State. With all the abundant mineral resources lodged beneath the State, one is pained to note that the present administration never thought it wise to come up with policies and strategies which it would open up these deposits for exploration, and as such create jobs
"We note with surprise the fact that the Chime's administration still prefers to pay corps members posted to serve in the state N10,000 as state allowance, when it refused to pay the national minimum wage to civil servants in the state. What hypocrisy! It is on record that the salaries of Enugu workers rank among the poorest in West Africa. Yet, we have a governor who would want people to see him as a silent achiever.
"The trend now is for state governments to develop other semi-urban areas in their states into cities through the provision of basic infrastructures there. We see this happening in Imo, Anambra, Akwa Ibom, to mention but a few. Yet, it appears too difficult a thing for Sullivan to do as he would rather concentrate cosmetic developmental efforts on the state capital which has continued to witness developmental projects since the time of the old Eastern region. What is wrong in Sullivan making modest cities out of Nsukka, Orji River, Awgu, 9th Mile, Agbani, Obollo Afor and other parts of the state which would require precious little efforts to be transmuted into a city? He is simply not a development-oriented governor.
"BEYA is further embittered by the fact that the present governor of Enugu has made the state irrelevant in national politics with his unjustifiable taciturnity even when he should make his voice heard on major issues of national concern. Once upon a time, Enugu used to be a rallying point for South East and South South, SESS. But today, the politics being played at the national level is being perfected without regards to the natural capital of the Eastern region.
"To make matters worse, Governor Chime prefers instead to continuously heat up the polity in his State with his absurd abuse of office and executive rascality. We now have our hitherto peaceful state become a theatre of bad blood and bickering, no thanks to Chime. These have come to be largely because of the immaturity and intemperate nature of the governor of the state. Yet the same character wants to retire into the Senate at the end of the expiration of his tenure as governor. We say a big NO to this!"
BEYA concluded by noting that the foregoing have led them to advise those seeking to win any election in the state to have nothing to do with Sullivan for the sake of their quest. According to them, "Youths who want Enugu State to be better are against Sullivan Chime being allowed to bequeath on the state any office holder who would reenact his failings and ineptitude by the time he vacates office as governor in 2015.
"Our burgeoning membership has resolved to vote against any aspirant we consider to be having the backing of the governor. Unless such an aspirant convincingly demonstrates to us how it would chart its own course and not go the way of Sullivan if he or she wins the ballot," the Assembly noted.