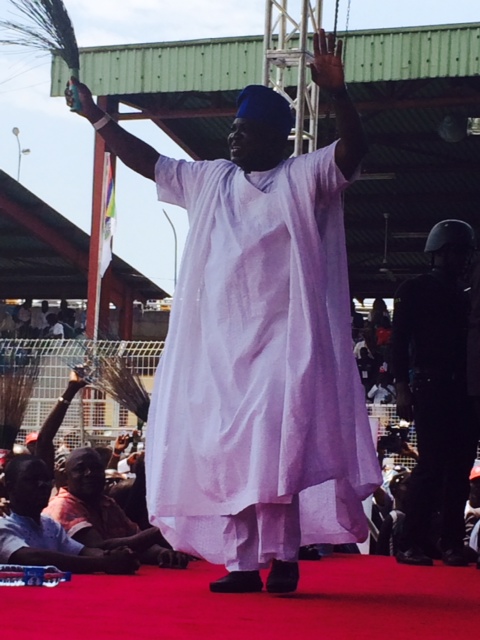 By Eromo Egbejule
Frontline governorship aspirant on the platform of the All Progressives Congress (APC) in Lagos, Mr. Akinwumi Ambode today officially declared his ambition to succeed the incumbent Babatunde Fashola.
The declaration which held at the Onikan stadium, kicked off at 10am Friday morning had a lot of party dignitaries in the state in attendance, from state lawmakers to local government chairmen. The mammoth crowd also included supporters, party stalwarts and other members of the public.
Ambode, a former Auditor-General of the state is rumoured to be the favoured candidate among the many vying for the position of number one citizen in Lagos.
In his declaration speech, he promised to run a government of inclusion and not discriminate against any of the state residents on the basis of sex, religion, ethnicity or age.
He said his candidacy was based on state-wide consultations and divine ordinance, saying "the presence of thousands of supporters today is an attestation of the state-wide consultations that we commenced since last year."
According to him, "The acceptance and popularity of my candidacy, the great turn out and the fantastic support we have received from every corner of the State and beyond, from all sectors and various religious persuasions confirm that this is a divine moment in the history of Lagos State."
Ambode said he had the qualities required to continue the giant strides which the APC has achieved in Lagos in recent years, promising to dedicate himself to the task, without flinching or losing focus.
He vowed to consolidate on the work of Bola Tinubu and Babatunde Fashola in Lagos state, with more people-friendly policies.
In his words, "I stand before you today in the spirit of the continuity of excellence that Lagos is known for. My vision and mission is to create a clean, secure and prosperous Lagos State that is driven by a vibrant economy and supported by quality service, equity and justice."
"Every family is represented in Lagos and have benefited from the purposeful APC government. If you believe Lagos can do more, it is imperative that we do not only win in Lagos but we must also take over the centre at Abuja. So when we say change, we mean change in its total ramifications. Change at the Center. We want to have more. We want more. The only way we can do this is to tell your family members and friends that live, in and outside Lagos, to vote for change, to vote for APC."
The crowd was entertained by popular musicians including Pasuma Wonder, Olamide, MI Abaga and Dammy Krane who all did their best to keep the venue alive as they belted out hit after hit on stage.
The elections hold in February 2015 but first Ambode must win the party primaries ahead of challengers like Senator Ganiyu Solomon, Hon. Obafemi Hamzat and others.