Atiku Says APC Presidential Ticket Is Not A Do Or Die Affairs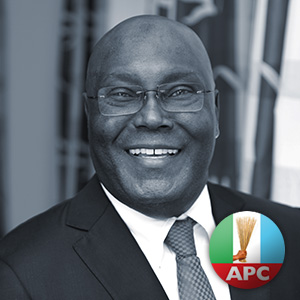 Former Vice president and APC presidential aspirant, Alhaji Atiku Abubakar has implored the other aspirants against letting the ticket tear the party apart opining that the contest should be issues-based rather than on primordial sentiments.
Mallam Garba Shehu, the media chief to Atiku said this  Abuja on Sunday
Shehu said those clamouring for consensus arrangement should know that Nigerians are no longer interested in leaders chosen through boardroom conspiracies but rather a candidate who emerges openly.
"On the 'No Buhari, No Victory' campaign of blackmail against the party, we don't want to be in the gutter with those type of characters. The Atiku bid for the APC ticket is a battle of ideas against emotions," he said.
"Given the woeful failure of the current administration, a winning party needs a ready candidate with articulated solutions to the problems, not threat. Atiku is ready. Beside this,  we are quite confident that Buhari  as well as other contestants know what is at stake and will not tear the party apart , no matter what.
"On our part, this is the assurance Atiku has given at every turn and we assure all that we will do everything to ensure that the part remain one.
"Atiku wants to create jobs, secure the nation so that the people will be safe and foreign investment will come. He wants to provide infrastructure and give Nigerians world class education.
"On consensus, our position has been clear all along that for too long, this country has been led by unprepared leaders chosen through board room conspiracies and it has not worked. The country needs a change and our party is in full realisation of this.
"That is why we chose the way of election, not consensus or imposition as did the PDP. We are different from the PDP because we subscribe to internal democracy," he said.
Shehu said that the comparisons between Buhari and Atiku's declaration is unnecessary because many of those who attended Buhari's did so out of respect for him and not because he is the more popular or acceptable.
"Seen in its proper perspective, the show at Eagle Square last Wednesday was more of a national rally than an endorsement of a candidate.
"Many of those in attendance showed up arising from the weight of respect they have for the former military ruler who personally took invitations around.
"He went round to their offices and homes with invitations and many of Turaki's people said they felt oblige and that they owed it to him and went there.
"We should know that politicians also speak using body language. How many of those at that rally, you can remember said the words 'I support' or  'I endorse?'
"Take my word, if the General had come home with an invitation to the Turaki, he too would have been present. You can't say no to a person like that.
As for our own declaration, you were there and saw what we did.
"We wrote letters to all the VIP politicians and the leaders of the party by way of notification only.
"We didn't ask them to come because our's was planned as a youth event and we said so. This whole thing is not about the past. It is about the future of this country and the future belongs to the youth. We didn't choose the path of rally but an interactive forum with the youth, " he added
Insinuations are rife that Atiku has been schemed out of the party's ticket with the top echelon of the party preferring the former head of state.