Muhammadu Buhari Took N27.5 million Bank Loan To Purchase APC Nomination Form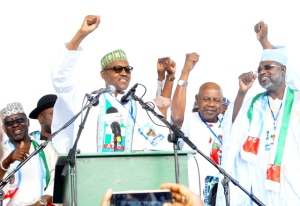 All Progressives Congress, APC, Presidential hopeful thursday procured the party's N27.5 million expression of interest and nomination forms at the national secretariat.
The former head of state lamented what the costs of the forms were high. Here's what he said at the APC office in Abuja where he went to purchase the form.
"It's a pity I couldn't influence this amount to be put down as in the case of ladies and the disabled that intend to participate. I always looked left and right in our meetings but I could not read sympathy, so I kept my trap."
"But I felt heavily sorry for myself because I don't want to go and ask somebody to pay for my nomination forms, because I always try to pay myself, at least for the nomination."
"N27 million is a big sum, thankfully I have personal relationship with the manager of my bank in Kaduna and early this morning, I put an early call (and) I told him that very soon the forms are coming, so, whether I am on red, or green or even black please honour it, otherwise I may lose the nomination."
"I was about to go to Kaduna this morning and I told the Chairman (John Odigie-Oyegun) but he said in that case, you better pick your form and keep a straight face. That means there is no excuse," Buhari said.
The national chairman of the party, Chief Odigie-Oyegun who responded said the N27.5m was carefully chosen to "separate men from the boys".
"Let me say that the N27.5m is to separate the men from the boys. It is quite clear. We know you. I don't expect you have N27m under your bed.
But I expected that there are Nigerians who will vouch for you any day and who are ready to stand for you any day and that is the result that we have obtained today", he said.
He said: "I want to congratulate you again on the great event that I watched very avidly on television yesterday. It was good for you but it was good for me and the party. I watched it and I knew the entire nation was watching. And I knew inside me what they would be saying. Yes, truly, APC has arrived. These people mean business. Yes, we are going to have quite a few aspirants and we are very glad at the level of display that one by one, they are putting up. It's a clear indication of the quality in APC.
"It is a clear indication of the quality of leadership that we are offering the nation. "All the people being presented by the APC, there is not one to my mind, so far, who is not eminently qualified to govern this nation and who given even half a chance will not beat anybody PDP can bring to the fore."