"APC Members Kick Against Imposition Of Candidates" Open Letter To John Odigie-Oyegun, Nat'l Leaders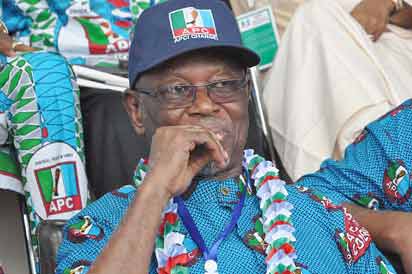 OPEN LETTER TO APC NATIONAL LEADERS
ATTENTION: HIS EXCELLENCY CHIEF JOHN ODIGIE-OYEGUN
We are registered members of this great party, and we strongly believe that we have the capacity to take this country to a greater height if we manage our successes very well. We are, however, constrained by some developments which at best can be referred to as rumor but which we believe could assume a life of its own, if not quickly put in perspective.
These rumours as they are borders on the method the leadership of the party is planning to adopt in the selection of its flag bearers to all the offices in the forthcoming general elections. An unsigned document purportedly emanated from the National Secretariat that delegates, specifically party officers elected in the last Congress would form the core team while members of the State Houses of Assembly, National Assembly, Governors and Deputies, Council Chairmen and Councilors' on the platform of the party would also be part of the exercise. For us, this is unacceptable. It is dangerous insisting on the use of delegates to pick candidates during the forthcoming primaries of the All Progressives Congress (APC). Only direct primaries, using all registered members of the party, will heal divisions, strengthen the APC and assure the party of victory in the 2015 general elections.
We are at the threshold of history. For the first time in Nigeria, voters are genuinely asking a major opposition party to assist in changing the direction of the country for good by offering to elect its candidates. This desire by Nigerians cut across ethnic, social and religious divides given the transparent and down-to-earth manner in which we conducted the registration of members for the All Progressives Congress (APC) in the first quarter of this year.
APC led the way in the first innovative grassroots registration of members, using polling booths as centres. Polling booths throughout Nigeria became membership registration centres. And we recorded 36 million members. If the processes leading to the emergence of candidates are carefully handled, it goes to show that we already have the numbers to claim victory in next year's general elections across the board. Unfortunately, things are not moving as smoothly as they were early this year as we are now suffering some reverses due to self-inflicted wounds.
A number of key stakeholders believe the processes of electing party officials were flawed, with acolytes of favoured persons becoming APC executive members at all levels. Of course, that is not democratic. It is not the change we desire. It is not different from what others have been doing, which we vowed to move away from in order to get Nigerians more directly involved in governance. Our firm resolve was to improve on Internal Democracy within our party, which would have had a direct salutary effect on governance.
Today, the perception among many, especially aggrieved member of the party is that the APC has been hijacked from the general membership to be controlled by cabals across the country, who have little or no political following. Interestingly, our slogan of CHANGE was premised on moving away from the old ways by allowing the generality of our members to decide on their own who they want for ANY office in order to get their buy-in for a committed long walk with the APC.
As we cannot canvass for a change of officials, it is very important that the vexed issue of primaries for electing candidates for the 2015 elections be carefully handled if we are not to finally bungle a God-given opportunity to produce Nigeria's next president. Thus, it is left for those conscientious enough to know that the fate of a united, progressive, developed and strong Nigeria rests in our hands with the decision about to be made on how we conduct the primary elections of the APC towards the 2015 general elections.
The old model of using delegates during primaries through a few hand-picked persons continues to appeal to a number of our leaders. Given how the executive of the party at all levels emerged, we'll be deluding ourselves if the leaders insist on using the same people as delegates in the primaries. There is subsisting anger by key stakeholders who believe the last congresses of the party was manipulated to favor certain persons, whose proteges now occupy party positions at almost all levels as officials. It is mostly these officials who are being positioned to be delegates in the primaries of the APC, which should elect candidates to fly the flag of the party in 2015. It cannot work.
We will ask that our leaders embrace direct primaries as a strategy to reposition the APC as the party of CHANGE desired by Nigerians interested in seeing a new approach to governance, and leadership come 2015. The generality of APC members should be given the opportunity to elect the candidates of the party at ALL levels. If this is allowed, we are telling them that it is their responsibility to roost for votes and defend same when the time comes. If we do this, we already make them stakeholders because they were directly involved in picking those who will contest elections. As pointed out recently, without transparency in picking candidates for elective offices, you'll not get the requisite support from party members, and indeed the electorates, who hold no party affiliation.
Gone are the days when candidates can be imposed directly or indirectly through staged-managed party primaries, and you expect victory in an era the Peoples Democratic Party (PDP)-controlled Federal Government is desperate to use official and unofficial means of coercion to forcefully have its way at the polls. The only guarantee against these undemocratic designs of the PDP is to ensure that the APC itself does not succumb to undemocratic 'Baba Sope' tactics in picking candidates.
Our leaders should note that, democracy is about participation. APC members at the Ward level should be allowed to pick those who'll run for office, not these hand- picked Exco members, who are loyal to ONLY those who wrote their names. That is democracy. That is the victory in 2015. That is writing your name in gold. From one forum to another, it has been repeatedly stated that lack of internal democracy is a major danger to Nigeria's young democracy. We should not lose this opportunity to save Nigeria through parochial and selfish political calculations.
May God guide and direct you in your decisions.
CONCERNED MEMBERS OF ALL PROGRESSIVE CONGRESS.