Presidential Primaries: APC Working On Strategy To Avert Internal Squabbles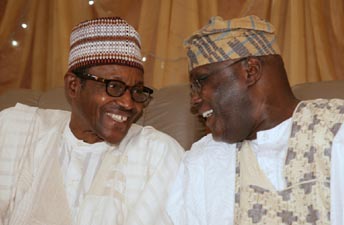 by Oluwatosin Fatoyinbo
Leaders of the All Progressives Congress are working out the strategy to avert the likely crisis that may trail the conduct of its Presidential primaries scheduled to hold later this month.
The race for the party's ticket seem to be a straight battle between General Muhammadu Buhari and Alhaji Atiku Abubakar though Kano state Governor, Rabiu Kwankwaso is also keenly interested. As part of the moves to ensure peace in the party, the leadership is said to be pursuing the option of a consensus candidate.
The Punch gathered that the APC National Chairman, Chief John Oyegun, and national leader, Asiwaju Bola Tinubu, had separately held at least two informal meetings with Buhari and Atiku. They also made personal appeals to the presidential aspirants to consider "the greater good" of the party.
Tinubu's trip to the Ota Home of former President OIusegun Obasanjo is also believed to be a part of the crisis plans of the party leadership.
However, the two leading aspirants have failed to agree on the method to be used in picking the party's ticket. While Buhari favours consensus candidacy, Atiku would rather the party decides through a modified primary elections.
But a chieftain of the APC in the South-East, Mr. Osita Okechukwu, confirmed that the party was aware that there would be challenges from the early stage, especially in the build-up to the primary, adding that the party had been holding meetings over the issue.
"Many aspirants have expressed interest in the APC presidential ticket and all of them are qualified, so the party is considering whether to go for direct or indirect primary. But some of us are of the opinion that consensus may be better.
"But the likely challenge is that the person with a fat pocket may win the primary, considering the fact that he can just sit somewhere and control the situation of things." He said.
The APC National Publicity Secretary, Alhaji Lai Mohammed,chose to display anger on the issue when he was questioned about it.
"The primary is yet to hold. We should leave them till when the time comes. As long as the process is transparent, the party will resolve the matter." He said