Cracks In Ogun APC, Osoba's Group May Carry Out Mass Defection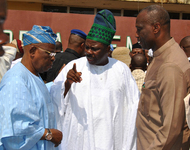 by Oluwatosin Fatoyinbo
Insinuations are rife that  many members of the All Progressives Party (APC) in Ogun state are set to dump the party for the Action Group of Nigeria which has already applied for registration with INEC.
The Action Group of Nigeria is led by former Governor, Olusegun Osoba whose faction in the APC is at war with Governor Ibikunle Amosun .
An APC source who spoke to The Punch said, "We have been waiting for the national leadership to resolve the crisis in Ogun State chapter. But with the release of the guidelines for primaries, it seems that the leaders have no regard for us.
"We have our plan; I can assure you that we are expecting INEC to register our party next week."
Another leading member of the Osoba Group senator Gbenga Kaka said to wait till next week.
"Without resolution or consultation with any of us, they (the APC) put forward their guidelines for the primaries.
"Since we cannot afford to betray our followers, we will decide a course of action for them."
He was asked whether it was true that the faction was plotting to register a new political platform altogether as was being speculated.
Kaka answered, "You wait till next week. They said their primaries start by that time. The vulture is a patient bird.
"We want to give them the longest stretch. I advise you to wait till next week when we will come out with a definitive statement."
Also, the Publicity Secretary of the APC faction loyal to Osoba, Mr. Clement Adeniji, said the faction had yet to reconcile with the Amosun group, "the crisis has not been resolved, that I can confirm to you." he said.
But the Publicity Secretary of the APC, a faction loyal to Amosun, Sola Lawal said it was not true that the Ogun State chapter of the party issued the guidelines on primaries.
He said the issuance was done by the APC national body.
He said, "Issuance of guideline is beyond the capacity of any state chapter of the party.
"Therefore it will be unfair to hold such act against the party in Ogun State.
"I am sure Senator Kaka is old enough to appreciate the fact that the national organ of any party does not have to consult any group or subordinate chapter before carrying out its constitutional duties."
Lawal added that the APC constitution does not mandate the party to engage in such consultation.
"The fact remains that the guideline does not confer any privilege on anyone. Every party member is free to partake in the primaries."
on the issue, APC National spokesman Alhaji Lai Mohammed agreed with the position of Lawal and said "It is the national leadership that will release guidelines. It is the national leadership that will release the timetable. Those who will conduct the primaries will be nominated by the national headquarters.
"All primaries are conducted by national officers, the time-table and guidelines are uniform everywhere."