Costa Is A Born Winner – Filipe Luis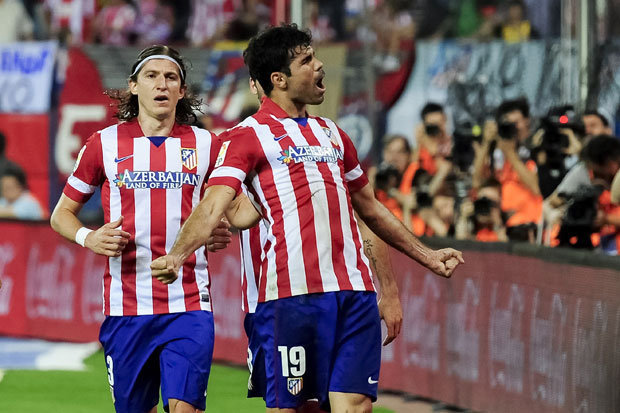 No doubt about it, Diego Costa has been the man to watch since the English Premier League resumed in August and rightly so. The Brazilian born striker has scored seven goals in just four premier league matches and is fast becoming the fans' favourite at Stamford Bridge.
One man who knows Costa so well is fellow Blue and Brazilian, Filipe Luis who has been Costa's team mate for over five years now; first at Atletico Madrid and now at Chelsea. The left back has spoken about the premier league's player for the month of August and the reasons the striker has excelled so far. He believes Costa is getting better with every passing season.
'I played with Diego five years ago and his growth has been huge,' 

'Every year he gets better and more confident. If you go back in his career and look where he started and how he suffered, he has never needed time to adapt in any place.

'He always goes to a club and scores. For some players, like me, it is not easy when you get a new club, new team-mates and everything is new, especially the physicality. But for Diego it's never difficult.'
Luis also likened Costa's win-at-all-cost mentality to that of manager, Jose Mourinho. According to Luis, Costa never gave up on his dreams despite being overlooked at Atletico initially and subsequently loaned out.
'People with ambition, they always want to win and if you don't, it gets you mad. They try to get better and these sort of people really have to succeed in life.
'He wanted to go. He wanted to prove first to himself and then to other clubs that he was a good player and that he deserved his place at Atletico.
He is a simple person with a big heart. Sometimes on the field he looks like he is crazy and he has one of the purest hearts I've ever known so I am proud to be his friend.'