Gimba Kakanda: Tampering With A Time-Bomb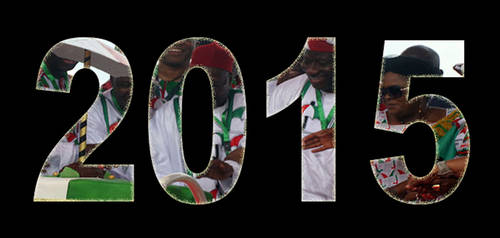 "Can you even hold a gun?" "Shut up, if you see a real war, you will pee in your trousers!" "War is not for the feeble-minded like you!"
These are things we hear when paranoid civilians talk tough, consider getting armed, anytime they register their distrust for the system they expect to protect them from the criminally armed groups that consider them pests over differences in regional, religious, ethnic or political affiliations.
We dismiss such outbursts as "wishful thinking", assuming that the speakers are our dear friends and, for that, incapable of harming even a stray goat. What we do not apply to such situation is our knowledge of the human psychology: all human beings, even the most puritanical of humanists, are potential beasts when pushed to the cliff of a misfortune for which they have to "respond in kind" to stay alive.
It's not a war, unless there's a counterattack or self-defence. So the seemingly cowardly citizens losing their hope in the politicised security arrangements of the nation should not be ignored, with our usual undermining of their capability to harm. And I can rightly identify with the consequences of unmediated provocations and unapologetically designed self-defence. I saw this in Jos, Nigeria's hospice of hate, and proof of man's animalistic tendencies. In my years in, and following of, Jos, I witnessed the mental corruption and death of some of my neighbourhood boys, people who, before the conflicts, could scamper on sighting even a roach approaching them. I saw the anger of the previously innocent, and of especially the bereaved, thirsting for vengeance, for counterattack, for self-defence, for conflict…
One of these boys, an amiable younger boy that used to run errands for us and even eventually relocated to our place out of mutual trust, became a fearless "self-defender" during one of the crises in the once beautiful city. In my encounter with him after a certain crisis, he was not only philosophical about the necessity of defending one's threatened community and existence, but he boastfully shared his experiences of the internecine fighting, recounting the ease with which humans died, and the comedy of mortality. I stopped him from telling the stories, outraged, and even called him names for being thus remorseless.
"What would you have done if you're surrounded by armed enemies intending to kill you, Gimba? Tell me!"
I wasn't interested in the discussion, so I didn't respond. But in retrospect, I realised that I was also not fair in judging him, without sensitivity to the contexts and circumstances that revived his inhumanity – which is an affliction that resides in all of us, when pushed to that cliff where staying alive is only by terminating the invading enemy.
Jos thought me a lesson: we're all circumstantial killers and potential beasts. Which is why we must stop saying that "Nigerians are cowards" whenever we're talking about revolutions and wars, for the same "cowardly" Nigerians now strap explosives to themselves, and form militant groups and terrorist cults, to kill fellow citizens, human beings. So I'm not unconcerned by the rumours that some places of worships, which ought to be for incubation of faith, are now stocking arms – for attacks, for self-defence, for counterattacks.
We must find ways to douse the tensions now that our politicians are becoming desperate and bitter, and warier we must also become of this pathetically unserious government that keeps giving even the analysts who had given it the benefit of the doubt, reasons to suspect it, to distrust its sincerity in protecting the people.
Sadly, the ruling party has shown its approval of this climate of distrust and incompetence, with the adoption this week of President Goodluck Jonathan as its candidate again for the 2015 presidential election in the very week the citizens are questioning the same man for suspicious rapports with the hateful and uncritically partisan President of Christian Association of Nigeria, Ayo Oritsejafor, whose private jet is now involved in an arms struggling scandal.
I once wrote in praise of the Christians who did not heed Pastor Oritsejafor's call for Christians in Nigeria to defend themselves "with whatever is available to them", knowing that could be interpreted as declaration of war on even the accommodating Muslim communities, and I'm even satisfied now that practising Christians, including catholic Bishops who have renounced membership of CAN, are among the frontline critics of the Pastor's ill-devised polarising stunts. The interception of his private jet in South Africa with about $10 million meant for arms purchase is an issue of serious national risk, ownership of which the federal government has unconvincingly claimed.
But, while the "conspiracy theorists" have already concluded that the arms are for planned killings of Muslims and northerners and covert sponsorship of Boko Haram, a judgment inspired by their perceptions of the man's hate-mongering antecedents, my understanding that some key security organisations of the country, which are parts of the government, are under Muslims and northerners frustrate approval of that conspiracy.
Perhaps, for explanations on this dangerous suspicion of the government, our conspiracy theorists need to ally and march to the offices of their brothers in this government: Sambo Dasuki, National Security Adviser; Abba Suleiman, Inspector-General of Police; Namadi Sambo, Vice-President; Adamu Mu'azu, PDP National Chairman; Ibrahim Lamorde, EFCC Chairman; Abdullah Dikko Inde, Comptroller-General of Customs; Aminu Waziri Tambuwwal, Speaker House of Representatives; among others, people whose complicity is necessary for the success of Oritsejafor's, and even Goodluck's, covert sponsorship of terrorism, people capable of knowing whether the arms are meant for our security agencies, and also to confirm whether the cash transaction method is employed in this deal so that the digitally snoopy America will not know. And if found guilty, we must also remember that the Chief Justice of the Federal, Mariam Aloma Mukhtar, is a Muslim and northerner, and potential victim of this anti-north conspiracy.
Perhaps, if the conspiracy theorists succeeded in convincing fellow Muslims and northerners in this government to bring Jonathan down, for conspiring to purchase arms to destroy the north, our Justice Aloma won't be merciful in sentencing him to life in prison. How about that?
On a serious note, there's a need to unite, more than ever, regardless of our religious and ethnic differences and regional solidarity, to defuse the time-bomb code-named "2015". Even this Oritsejafor's jet scandal is a confirmation that Jonathan has failed as a consummate leader of a nation in need of unifying public figures, and the reality that he has just been given another opportunity by his party to mismanage our funds and trust for another four years, which is now very obvious, should be a reason for us to be sober about the future of Nigeria.
If you think it's possible to oust a sitting President, one responsible for management of the nation's resources, one whose platform is designed to appeal to prebendal politics, in a country where accountability is a myth, in a system where $20 billon has been declared missing and nothing happened, be getting ready to visit a therapist in the first quarter of 2015. For the opposition, without a doubt, is incapable of matching the "stomach infrastructure" politics of the ruling party, kobo to kobo. 2015 is already being approached with reckless sentiments, and with insensitivity to our fault-lines. Sadly, when this bomb goes off, the political elite, including the ones promoting these divisive sentiments, would be in their comfort zones or even "holidaying" overseas, and the causality would be members of the impressionable class: the politically outsmarted, handout-receiving masses. May God save us from us!
____________________________
Follow Gimba Kakanda (@gimbakakanda) on Twitter.
Disclaimer
It is the policy of NewsWireNGR not to endorse or oppose any opinion expressed by a User or Content provided by a User, Contributor, or other independent party. Opinion pieces and contributions are the opinions of the writers only and do not represent the opinions of NewsWireNGR.