To Get APC Out Of Lagos State, Pick An Igbo As Deputy Governor- Igbo Group Tells PDP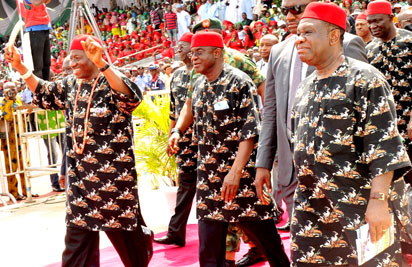 by Oluwatosin Fatoyinbo
A group of Igbo leaders has said that for the People's Democratic Party to defeat the ruling All Progressives Party in Lagos State, the Deputy Governorship slot in the 2015 elections in the state must be given to an Igbo.
The Igbo leaders who are soliciting for support for President Goodluck Jonathan's re-election bid believe that the President will win the election if the welfare of Igbos in the North is improved upon.
They spoke under the platform of 'Goodluck Gaa Niru 2015' stated this in a communique issued after its maiden national executive meetingin Abuja during the weekend.
The 'Onyeisi Gburugburu' of the group, Kenneth Ibe-Kalu, who led other executive members to read the communiqué, observed that President Jonathan secured the 25 per cent votes spread across the nation due to the massive presence of Igbo people outside the southeast.
According to the communique signed by 10 leaders of Igbo extractions, the group advised PDP to adopt its demand as a strategy to unseat the All Progressives Congress (APC) government in Lagos state.
They also asked for the immediate sack of INEC Chairman, Prof Attahiru Jega over the creation of the disputed 30,000 polling units.