Nuhu Ribadu Withdraws From Guber Race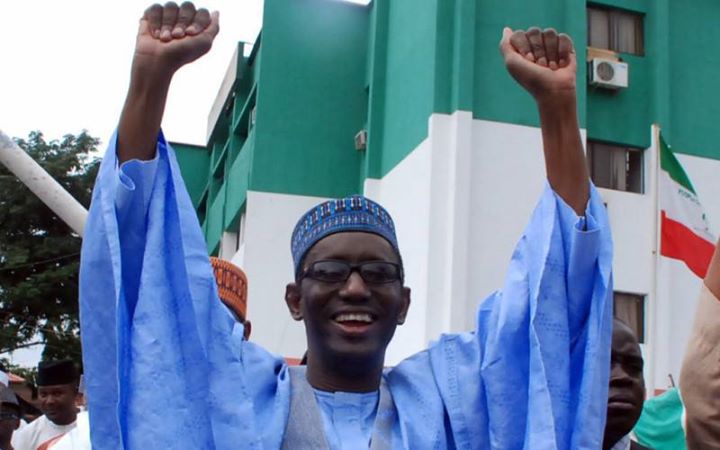 Malam Nuhu Ribadu will not take part in Saturday's primary for the October 11 governorship election in Adamawa State. Seven other persons have also stepped down. Eight of the fourteen aspirants jostling for the Adamawa State Governorship ticket under the Peoples Democratic Party (PDP) stepped down from the race in the early hours of Friday.
Following the impeachment of the former Governor, Murtala Nyako, October 11 has been fixed for election to get a substantive governor for the state.
After about four hours meeting with the aspirants that started by 9.06 p.m on Thursday and ended around 1.00 a.m on Friday at the Banquet Hall of the State House, Senate President, David Mark along with other officials of the party were able to reach a compromise with the aspirants and pruned down the number of those contesting to six.
The six aspirants still in the race for the party's ticket on Saturday are Ahmed Gulak, Buba Marwa, Ahmed Modibbo, Dr. Umar Ardo, Acting Governor Umaru Fintiri, and Jerry Kumdisi.
Those who have withdrawn from Saturday primary election include Nuhu Ribadu; Auwal Tukur; Aliyu Idi Hong, Andrawus Sawa; James Barka; Gen. Aliyu Kama; Markus Gundiri and Abubakar Girei.
The Nation Newspaper reports that tt was agreed at the closed-door meeting that the six aspirants contesting for the party's ticket on Saturday will not contest for the position in 2015.
The meeting also agreed that only those stepping down now can contest for the party's governorship election ticket in 2015, with more consideration in 2015 for Adamawa Central that has never produced a governor.
Any aspirant who fails to win the party's ticket in Saturday's primary election, the meeting, also agreed must support the party's flag bearer towards the 11th October election.
Speaking with State House correspondents at the end of the meeting, Chairman of the Adamawa State chapter of the party, Joel Madaki said: "Fourteen aspirants contesting for the position earlier has now reduced to six aspirants due to this meeting. It is a very welcome idea. Nobody was forced to step them. Those who stepped down did so voluntarily in order to wait to contest for the position in 2015."
"The six aspirants contesting this election are Ahmed Gulak, Buba Marwa, Ahmed Modibbo, Dr. Umar Ardo, Acting Governor Umaru Fintiri, and Jerry Kumdisi," he added
The former Special Adviser to the President on Political Affairs, Ahmed Gulak, who is contesting for the ticket on Saturday, said: "The outcome of the meeting was fantastic. We met as family members of PDP, even before coming here all the aspirants in Adamawa have unanimously resolved that after the primaries, in a free, fair primaries, anybody that emerges will get our support."
"Today, in this meeting, the number of the aspirants has been drastically reduced to six, which is manageable. I am contesting, Gen. Marwa is contesting, Ahmed Modibbo is contesting, Dr. Umar Ardo is contesting, Hon. Jerry Kumdisi is contesting, and Acting Governor Fintiri is contesting."
"And we have resolved to go into the primaries without rancour, without acrimony and to come out of it as peaceful co-existing members.
"And at the end of it all, anybody that emerges, we will all queue behind him. And if I emerge as the candidate, they will all queue behind me. It is going to be a family affair and there will be no losers."
On his chances of getting the ticket as Ribadu and others are now out of the race, he said: "Nuhu Ribadu or not, you know, I prepared for this election. Even, if 14 of us are going into this election, I am confident of my ability, of my capability, of my mobilization, of my sensitization that the delegates will select me."
Aliyu Idi Hong, who is among those who withdrew from the race, said: "Peace-building, negotiation, give-and-take, everything went well. We have been given a caveat and one thing we have succeeded in extracting from this meeting is that the meeting started with a preamble that whoever is going to contest and if he happens to win as a governor, he will not have the right to contest the 2015 election."
"Some of us think that our aspirations, our ambition, our vision for Adamawa is a long term and more articulate vision and not a stop-gap six months aspiration."
"For that reason, we saw it is wiser that if you are going to do something to change the fortune of Adamawa, you need a longer period of time. So, we decided that it is not wise for you to go into this aspiration for six months," Hong said.
"Two, we have also been able to have on record, that whoever is going to emerge as governor will not contest in 2015 and it has also been unanimously agreed that because Adamawa Central has not been able to produce governor of the state before, it is on record that the Presidency and the party have accepted that the aspiration for the PDP nomination for 2015 will be strictly for contestants from Adamawa Central. It is not negotiable."
"So most of us from Adamawa Central have agreed to this position and about eight of us have withdrawn from the race. We are going to remain members of the party and we are going to contest in 2015 because it will give us the opportunity to make that transformation that we want to change Adamawa into," he stated.
Those who attended the meeting included the PDP National Vice Chairman, Uche Secondus and the Special Adviser to the President on Political Affairs, Rufai Alkali.
Also at the meeting are two governors, Ibrahim Dankwambo (Gombe) and Isa Yuguda (Bauchi).
The Secretary of the Adamawa state PDP, Barrister Ati Shehu and the former governor of the state, Wilberforce Jutta were also at the meeting.