Layi Ishola: Lagos 2015 And The Imposition Of Next Governor As Booby Trap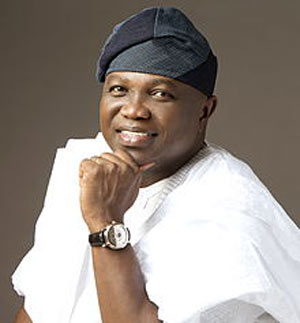 All truly concerned stakeholders, honest observers and indeed, dispassionate analysts, are already dilating on not only who takes the baton from incumbent Lagos State Governor Babatunde Fashola, but how he/she will emerge as preparations gather momentum by the day.
Quite interestingly, the tone of what to expect soon was set when recently, Oba Rilwan Akiolu jolted the political arena by affirming that all monarchs in the state had anointed a former Permanent Secretary in the state, Mr Akin Ambode, to be the next governor.
Spontaneous outrage greeted the proclamation which many condemned as not only unholy and uncharitable, but a further assault on the nation's wonky democracy. Till date, the refrain has remained: "No to godfatherism." And the dust raised by the monarch's bombshell is yet to subside. Quite instructive was a protest by some members of the All Progressives Congress, APC, to demand free and fair primaries ahead of the 2015 governorship poll. Anointing of some mostly unpopular elements for leadership positions is out-fashioned and counter-productive, they emphasised.
Sadly, many are quick to brand our own nauseating political antics that stand electoral decency on its head as elements of our "home-grown democracy." What balderdash!
It will be a contrived calamity if we fail to realise that unalloyed due process and the sacredness of the rule of law constitute the template upon which steady growth and people-centred productivity of advanced democracies in the world today rests. Since democracy derives its strength from people's inviolate will, it is time we jettisoned our egregiously repulsive approach to choosing who leads us at any level.
This is why we must applaud the exceptional courage of the Senate Minority Whip representing Lagos West at the upper Chamber of the National Assembly, Senator Ganiyu Olanrewaju Solomon, GOS. Even before he threw his hat into the ring to contest for the governorship of the state next year, the adept grassroots mobiliser had insistently maintained at various fora that the prospective flag-bearer of his party must be a product of untainted primaries.
"When you withhold people's inalienable right to freely elect who governs them, you take away the essential ingredient of a sane, productive and fail-safe electoral process, which has remained a desideratum in our collective quest for genuine gianthood as a nation," Solomon once reasoned.
A people's darling as roundly acknowledged even by his political adversaries, the politician had, long before he served meritoriously as two-term chairman of Mushin Local Government in 1999, after which he was overwhelmingly elected into the House of Representatives, been a masses' advocate. It won't be wrong to readily conclude that his soaring popularity was the bedrock of his courage to stoutly stand against "imposition," no matter whose ox is gored!
Many are convinced that his confidence derives from his unequalled acceptance across the state owing to his marriage to his time-tested loyal friendship with the have-nots. "It is part of his life to give willingly, especially to the needy – even strangers. He has secured the future of many, especially youths, through sponsorships and empowerment gestures. He has secured jobs for many in his private capacity. Why then won't he bask in the inherent euphoria of standing a good chance against any aspirant or candidate in a fair contest?" An observer asked recently.
I share in the observer's argument, but still I feel within me that it takes a rare activist spirit that naturally revolts against injustice for one to stand for justice and fair-play in a system where whoever espouses such a noble, patriotic stance is publicly derided as a full-blooded fool!
Till date, armed with the truism that a structure erected with an admixture of saliva and ashes won't endure, the senator remains the only implacable voice advocating all-inclusive primaries in the name of true political progressivism, while others are locked in unhealthy lobbying that will, given the unfolding scenarios, end in a cul-de-sac.
If we are sincerely serious about breathing the long-desired rejuvenation into our ailing polity that is panting dangerously, the discerning among us, including public commentators, the media, the politicians amidst us and indeed, the electorate, must rise to consciously shoot down any idea that smacks of idiosyncrasies that will further lock the nation in a ball-room dance – a step forward; two backwards!
As long as we fail to key into the globally-cherished ideals of true democracy, rule of law and due process, our hope for a prosperous nation will remain a pie in the sky.
Did I hear you say that APC has its peculiar way of doing things? Come off it! The only other name for injustice is injustice. When a person is denied of unfettered expression of his fundamental rights, he easily gets aggrieved to the detriment of the offensive system – and this is a warning.
When a political party is bereft of internal democracy, it is a threat to its electoral fortunes and the health of the entire polity. And essentially, democracy is solely about equal rights on a level-playing pedestal.
Even the Holy Bible admonishes us that we cannot be swimming in an ocean of transgressions and expect a cornucopia of God's grace. It therefore stands to reason that even in the spiritual realm, the fact that you only reap what you sowed brooks no compromise as the heavens abhor fraud of any colour or kind.
Solomon's exemplary politics that bears no taint of desperation must be imbibed, internalised and actualised by all true lovers of the state nay Nigeria.
We cannot continue to totter on the brink of perdition out of the sheer hypocrisy, utter deceit and crass selfishness of some of us. After all, there is a proverb in Yoruba parlance that warns us to cast aside any deity that does not make us prosper after 20 years of religious worship. A word is enough for thewise!
_______________________________________
Layi Ishola, a political analsyt, wrote from Lagos.
Disclaimer
It is the policy of NewsWireNgr not to endorse or oppose any opinion expressed by a User or Content provided by a User, Contributor, or other independent party. Opinion pieces and contributions are the opinions of the writers only and do not represent the opinions of NewsWireNGR