Group Calls For The Participation Of Nigerian Youths In Elective Positions Nationwide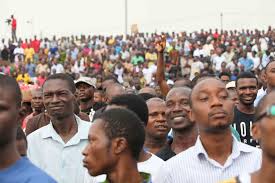 The National Youth Coalition for Good Governance in Nigeria (NAYCOGG) has called on Nigerian Youths to seize the opportunity of their Youthfulness to impact positively on their immediate society by participating and contesting elective positions in the forth coming general elections in February, 2015.
The Group's National President, Prince Olatunji Olusoji made this known in a Press statement jointly issued by the group's National Executives in Abuja to commemorate the 2014 International Youth Day.
The Youths were charged to be proactive on issues of National concern instead of shying away to the background and expect to see changes they never toiled for. He further described youths as special breeds with the resilience to absorb disaster and weave it into the pattern of their life, no matter how anguishing the thorn that penetrates its flesh.
Prince Olatunji also reiterated the call on Nigeria Youths to follow the steps of our past leaders nwho fought for the independence of Nigeria in the Youthful ages.
"The time is now to chart a new course in berthing a New Nigeria, the roles of the Nigerian Youth must be brought to fore. We cannot afford to remain in the dark. We duly seek to participate in deciding our future. The dream of our great nationalists who fought for Nigeria's independence from the British imperialists must be restored."
"They envisioned a nation anchored on egalitarianism, justice, fairness and good governance. It is our duty to make change our new order of pursuit. We must arise and obey the call in full to serve with heart and might so that we can build a nation where peace and justice shall reign."
The National President also commended the National Conference committee for adopting the 25Years for Nigerian Youths seeking election into the National Assembly.
In a related development and what could be described as an affirmation of his call and in setting an enviable pace, Prince Olatunji Olusoji openly declared his intention to contest the Kabba/Bunu Federal Constituency seat in the Federal House of Representatives, Abuja. He further described his decision as a road map for practical Change borne out of the Passion to serve his constituents and liberating them from the scourge of bad leadership.