Breaking: Another Bomb Explosion Averted At EMAB Plaza, Abuja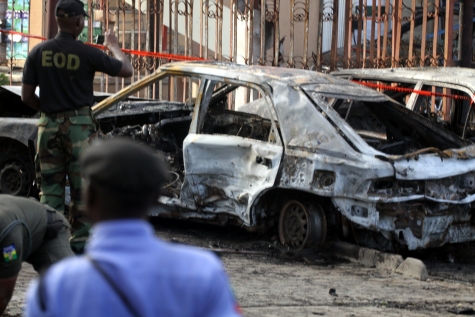 But for vigilance and timely response of security agents, another improvised explosive device (IED) would have exploded at EMEB Plaza shortly after the one that killed 21 persons and send many others to hospitals for treatment on Wednesday.
Coordinator of the National Information Centre (NIC) Mr. Mike Omeri said this in AbujaFriday afternoon when he led other members of the Centre in a media briefing on government's efforts to curb insurgency in the country.
He explained "that their prompt action on that afternoon led to the arrest of one of the attackers and the killing of another that was almost using his gadgets to detonate the second and possibly the third deadly device."
Omeri however, disputed popular insinuations that the CCTV cameras installed around some areas in the Federal Capital Territory are not functioning as a syndicate has stolen most of the batteries installed in them.
He narrated that Minister of the FCT, Senator Bala Mohammed told him that the cameras were functioning and that more are to be installed.
Omeri however, advised citizens to also install the cameras in their premises to complement that of government.
While refusing to give details, the Director General of the National Orientation Agency gave the assurance that efforts by the military especially in the North East to subdue the book haram terrorists were progressing steadily and that the war was being won by government troops.
"While we do not want to go into details of operations currently taking place, it is advised that the practice in which some persons just bandied figures of casualties on either the side of the military or insurgents should be discouraged and checked. The truth remains that the military is winning the war and the nation shall surely triumph in this fight", he declared.
He also urged Nigerians especially parents and school pupils to ignore messages on the social media that some schools were being targeted for attack and assured that security agencies were working assiduously to ensure that schools are safe and academic activities remain unhindered.
While responding to worries that terrorism suspects were being held without trial, Police Public Relations Officer, Mr. Frank Mba, who was promoted to the rank of an Assistant Commissioner of Police on Thursday appealed to the public for patience.
Mba noted that investigations on terrorism cases are tenuous and strenuous but pledged that once investigations were concluded, every suspect would arraigned in court for trial.