Kano Govt Moves To Secure Release Of Indigenes Detained In Abia By Security Operatives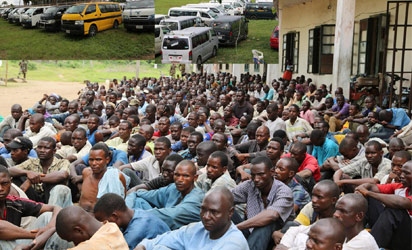 The Kano State Government said it had dispatched a delegation to Abia to secure the release of the state indigenes among the 486 persons arrested by security operatives recently.
Recall that about 486 persons suspected to be Boko Haram members were arrested recently in Abia by security operatives.
The state's Commissioner for Information, Dr Danburan Abubabar, told News Agency Of Nigeria in Kano on Saturday that the delegation had since arrived in Abia and started discussion with the state government officials and security agents.
He said the team, led by the Commissioner for Special Duties, General Idris Dambazau, was to find out the exact number of Kano indigenes among the detainees and the nature of their offences.
Abubakar said the delegation had been directed to also take care of the welfare of the indigenes among the detainees in Abia.
"We directed the team to secure their release, if they were not found guilty of any offence and bring them back home.
"We will not accept a situation where the fundamental human rights of our innocent citizens are infringed upon.
"The committee has been directed to immediately report back its findings to the government for necessary and appropriate action," Abubakar said.