"Orders From Above" APC Governors Barred From Traveling To Ekiti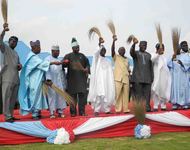 The All Progressives Congress (APC) has raised the alarm that its Governors are being prevented by security agencies apparently acting on "orders from above" from traveling to Ado-Ekiti for the party's final campaign on Friday for the Ekiti State Governorship election on Friday.
In a statement issued in Ado-Ekiti on Thursday by its National Publicity Secretary, Alhaji Lai Mohammed, the party said at least three Governors – Adams Oshiomhole of Edo, Rotimi Amaechi of Rivers and Rabiu Kwankwanso of Kano – have so far been prevented from making the trip
It said the helicopter that was to ferry Gov. Oshiomhole from Benin to Ado-Ekiti was refused permission to take off from the Benin Airport, while the plane that was flying Gov. Kwankwanso to Akure was denied permission to land.
According to the APC, while the plane carrying Gov. Amaechi actually landed in Akure, his convoy was stopped at the border between Ondo and Ekiti States and ordered to turn back, because he would not be allowed to reach Ado-Ekiti.
The party said while Gov. Amaechi's convoy was being detained in order to force him to turn back, the convoys of the Ministers of Defence and Police Affairs came and were allowed to pass.
"These acts are illegal and definitely not in line with the Electoral Act, which stipulates that campaign for the election will only end at midnight on Friday.
"It also represents a manipulation of the electoral process when all the candidates will not be allowed a level playing field to campaign for the election. There is no clearer manifestation of the federal government's allergy to free, fair, transparent and violence-free election than this," the party said.
It condemned in the strongest terms the abuse of national institutions and the abuse of power which these actions represent, especially because only the Federal Government has control over these institutions, including the security agencies that have now become a
tool in the hands of an increasingly-desperate government of the day.
"Several months ago, we warned that Nigeria under the watch of President Goodluck Jonathan was sliding into fascism and we were pilloried in certain quarters for daring to make such a statement.
Today, we have sadly been vindicated.
"Not even in the worst days of the abhorrent military dictatorship were things done this brazenly, with citizens being denied their fundamental rights of free movement, free assembly and free expression, all because of the desperation by the ruling party to win elections at all costs.
"We therefore call on all good people of Nigeria and indeed all the country's international friends to speak out against what is happening before things get out of hand. If democratically-elected Governors could be so shabbily treated, despite the high office they occupy, what will happen to ordinary Nigerians in the hands of an increasingly-fascist government?" APC queried.