Opinion: Who Is Afraid Of Ambode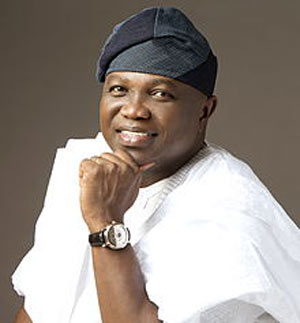 Ever since the open endorsement of Mr. Akinwumi Ambode, the erstwhile Accountant General/Permanent Secretary, Ministry of Finance, Lagos State by none other than the much-respected Oba of Lagos,Oba Akiolu1 for the gubernatorial seat of Lagos state the political landscape has never been the same again. Oba Akiolu had used the auspicious occasion of the launch of Ambode's biography, The Art of Selfless Service on May 15, 2014 at the jam-packed hall of the Civic Centre to drum home his support for the man of the moment. Ambode is widely acknowledged as an accomplished accountant, whose meritorious service to the state that spanned 27 years has become a source of pride to his friends and envy to his political foes.
The Oba of Lagos had hit the nail on the head. Said he, pointedly: "I will not lie to you. The elders of Lagos have met and they have said Ambode should be governor. You will still meet in your party and take a decision on who will be governor. But, in my capacity and in accordance with the wish of God and the elders around I will make my position clear on this matter. When you see someone that is dancing upstairs, you should know that some people are beating the drums downstairs for him."
This tacit affirmation for Ambode's candidature from the Oba of Lagos has understandably stirred the hornet's nest. Indeed, it has not gone down well with some stakeholders in the Lagos polity, not the least being the incumbent governor Babatunde Raji Fashola(SAN),Ganiyu Solomon and of course, the Speaker of the Lagos House of Assembly, Hon.Adeyemi Ikuforiji, who has been the most consistently vehement and vociferous against the choice of Ambode.
On his part, Governor Fashola used the recent inter-faith conference on: Peace, Religious Harmony and Good Governance: Issues and Challenges held at Golden Tulip Hotel, Festac Town to decry the focus on religion in the choice of a state governor. He said amongst other things that: "I do not recall the last time a Lagos governor was elected based on his religion. What will the reference for a governor of one faith over the other benefit us? Will it give one religion roads that the other faiths cannot use? Will it give them schools that children of other faiths cannot attend?"
These rhetorical questions notwithstanding, Fashola's response has been interpreted in informed quarters as a shock response to the choice of candidate as against his preference for a serving Commissioner in his cabinet. Perhaps, he has forgotten how his own candidature back in 2007 had similarly sent shockwaves down the spine of politicians such as Afikuyomi and Remi Aikwu-Bakare amongst others. But he eventually emerged and won. Today, he has made his indelible marks in the sands of Lagos politics and good enough, people of different races and religious beliefs are applauding Asiwaju Bola Ahmed Tunubu for that singular master stroke at identifying his great talents. Since heavens did not fall then because of Fashola then,even in the absence of any political structure of his own on ground why should it now, on account of Ambode's emergence as the preferred choice of the APC hierarchy?
From the moral standpoint it would be unfair and even curious if Fashola goes against the choice of Ambode. Is it not of this gentleman that he wrote: " I write on behalf of the people of Lagos to commend your high sense of dedication, selflessness and integrity which you brought to bear on the civil service. I wish to specifically remark that working closely with you has been of tremendous mutual benefit, particularly in the present administration." That was not all, on the encomiums poured on Ambode by Fashola.
Furthermore, he stated: "You have displayed high sense of professionalism and have been a good team player guided by the philosophy of a true public officer, who must place himself last while rendering service to the public. We are convinced that your brilliance and zeal will make you excel in your future endeavours."What more does Ambode need to convince the good people of Lagos that he possesses the leadership qualities to build on the great works both Asiwaju Tinubu and Fashola have laid and strengthened? Little wonder that during that historic book launch, Ambode described such glowing tribute by Fashola as his 'gold medal'.
On his part, Solomon had in a press statement alluded to the fact that Oba Akiolu's statement was his personal opinion and not yet that of the APC hierarchy. He feels that he too was eminently qualified to step into the big shoes Fashola would be leaving behind come 2015.But do the people of Lagos feel the same way? Time would tell. Meanwhile, he should go ahead and throw his hat into the ring and be cautioned never to hit his opponent below the belt.
For discerning people of Lagos, the sheer desperation, gusto and penchant of Ikuforiji to discredit the person and ambition of Ambode is condemnable. For instance, on May 20,2014 a day after his return from Umrah he posted this on his facebook account. "Egun ti o ko jo,iran lo ma wo gbeyin",meaning that "the masquerade that dances first becomes a spectator later." What a flippant remark from someone wanting to become the next governor? Is He God? Does he know what the future holds for Ambode?
Not done, the Speaker on Thursday, May 22,2014 posted another comment: "Can somebody tell me the achievements of Akin Ambode in terms of project and employment when he was Accountant General of Lagos State?" This tactless remark makes me to laugh. Governorship is not by force. If Ikuforiji does not know let him ask the duo of Tinubu and Fashola. They would school him on the sterling achievements recorded by the young man he takes undue pride in disparaging. Or, better still he should buy Ambode's biography and take the pains to read through. That is, if he has the time.
One would therefore, admonish Ikuforiji to channel his waning energy on how to defend himself against the serious allegations of financial impropriety leveled against him instead of wasting that on his pull-Ambode-down-by-all-means mission.
It is indeed sad and saddening that somebody of Ikuforiji's political experience would condescend so low to posting on his facebook account the spurious allegation of the denial by Edu family in Epe on Ambode's lineage which has since been unveiled as the hatchet work of Ambode's unrelenting traducers. The good people of Lagos,nay Nigerians are much wiser now. First, Ikuforiji needs to be reminded that Lagos is home to a cross section of Nigerians from diverse ethnic nationalities who would go to the polls to elect their next governor. They would not be swayed by such primordial sentiment as where Ambode hails from as much as his leadership qualities, including his managerial competence, ability to deliver on the mandate of his party, the APC and of course his accountability, which have been widely attested to by both Tinubu and Fashola. Can the same be said of Ikuforiji?
The answer as the wise ones say is blowing in the wind and all enlightened Lagos people know it. In fact, one would caution top members of APC in Lagos state to realize that there are other political parties competing for the same coveted governorship seat. They should therefore, put their house in order, lest they lose it. They should be reminded also that it is their ability to sell their party's manifesto to the electorate that really matters. The voters would be the final deciders of who they want as their next governor. And Lagos has many other ethnic nationalities as voters not Yoruba people alone.
One good aspect of the responses so far is that neither Fashola nor Solomon has frowned at Ambode's ambition on the premise that would not perform creditably. Therefore, if Ikuforiji thinks he is better qualified or made of a sterner stuff let him be more creative to project and promote that instead of casting aspersions on a credible character.
One is delighted that so far Ambode has made no negative remarks about his traducers. He has kept his cool, concentrating his energy on what matters most. That is the mark of a wise man. Whoever is afraid of him must have skeletons in his cupboard. To Ikuforiji and would be enemies of progress, we say, 'Let Ambode be".
_______________________
Written By Adeniran Kasali
Disclaimer
It is the policy of NewswireNgr not to endorse or oppose any opinion expressed by a User or Content provided by a User, Contributor, or other independent party. Opinion pieces and contributions are the opinions of the writers only and do not represent the opinions of Newswirengr