Transparency Key To Eradicating Poverty In Africa, Says IMF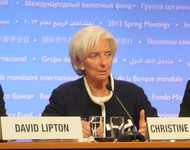 Estimated Reading Time: <1
NAN
The Managing Director, International Monetary Fund (IMF), Ms Christine Lagarde, has said that accountability and transparency are key elements for the eradication of corruption in Africa.
Lagarde made the statement on Friday at the ongoing Africa Rising Conference in Maputo.
The theme of the conference, organised by IMF and the government of Mozambique is "Building the Future".
"There is need for transparency in information sharing and in the use of Internet to enable people to know the correct things happening in Africa," she said.
Lagarde said that IMF would launch an initiative which would help in tackling corruption and tax problems on the continent.
According to her, IMF is consolidating its partnership in three key pillars of building infrastructure, institutions and development of the people.
In her contribution, the acting Governor, Central Bank of Nigeria, Dr Sarah Alade, admitted that corruption remained a major challenge in Africa.
Advocating for policies that would help to reduce corruption in the region, Alade said that transparency was imperative in public and private businesses.
She said that if the people and government saw corruption as a "monster", they would jointly fight it to "standstill".
Also, the Cabinet Secretary to the Kenyan Government, Mr Henry Rotich, said the best way to tackle corruption was to ensure that proper and strong institutions were established.
Rotich said that such institutions would help to bring rule of law and good framework to operate, stressing that with the right institutions, structural transformation could take place.