Rabiu Kwankwaso Uncultured And Unfit To Govern At Any Level – PDP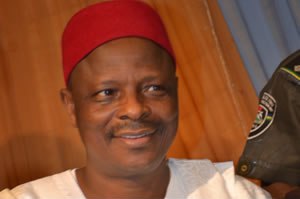 Estimated Reading Time: <1
The Leadership of Nigeria's ruling Peoples Democratic Party, PDP has said the Governor of Kano State, Alhaji Rabiu Kwankwaso, is not fit to govern at any level in Nigeria.
The party said,"It is very shocking that an elected governor could show his inability to manage his political failures and miscalculations by condescending so low to attack governors from a section of the country even to the extent of describing his own colleagues as 'vultures'.
At a press conference at the party headquarters, the secretary of the PDP, Prof. Wale Oladipo added that description of governors as vultures  by the Kano Governor "is indeed unfortunate and clearly shows him as an uncultured and ill-bred person completely unfit to govern at any level."
The party condemned Kwankwaso's direct attack on the Chairman of PDP Governors' Forum, who is also the Governor of Akwa Ibom  State, Godswill Akpabio, and other governors who accompanied the President to the PDP unity rally in Kano recently.
"Ordinarily, we would have ignored this confused and frustrated governor who now swings on the brink of nervous collapse following his rejection by the people, but in the interest of the nation and our teeming supporters we are persuaded to post this response, put the records straight and expose the real intentions of Governor Kwankwaso." The Secretary noted.
With the frequent attacks, the party said Kwankwaso had not only shown his aversion to the unity of the nation but also the agenda of his party, which he said was to attack well-meaning individuals and leaders as a means to cause confusion among Nigerians and destroy their oneness.