Opinion: Mutiny In The Nigerian Military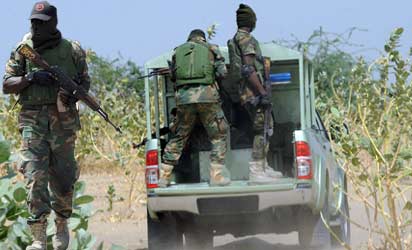 On Wednesday, 14th day of May, 2014, reports went round the country that an army general, the General Officer Commanding, GOC of the 7 division of the Nigerian Army in Borno State, Major General Ahmed Mohammed's official vehicle was attacked by irate soldiers while he was visiting the Maimalari cantonment to boost the morale of the soldiers. The reports had it that the soldiers already had bottled up anger against their GOC and the way the high command in the army is handling their welfare. When the slain bodies of four of their colleagues who were ambushed and killed in the Chibok area by the Boko Haram militants arrived their barracks they went wild, shooting sporadically while some aimed at the official vehicle of Gen. Mohammed and shot at it in anger.
It is still unimaginable, worrisome that soldiers could aim at their superior officer for the kill when it is obvious that the said GOC did not organize for the killing of these fallen heroes. Though, the Nigerian Army has instituted an inquiry to ascertain what really transpired. But, we must look beyond that to do a complete appraisal of the police and military. Our junior soldiers and police are not quite happy with their senior officers,' several cases are bound why they are not. Not long ago, the Borno State governor, Alhaji Ibrahim Shettima reported that the Boko Haram fighters are better remunerated, cared for, equipped than men of the Nigerian soldiers. Yes, agreed he should not have said such in public but the message is already clear and understood. So, this should necessitate an enquiry from the Presidency because we cannot fight the insurgents of this nature when our soldiers are not well motivated.
Lots of funds had gone into our security that no officer of the military or police should complain of lacking in anything especially in this Boko Haram challenge. We are then wondering where all the funds had gone into? We need answers from the Defence chief, Army, Air force, Navy, Police Chiefs. It has set tongues wagging why our army cannot flush these boys away in a matter of days, suspicion from all corners whether this present army is indeed our strength? This is not to cast aspersion on our military but embracing reality. For a state chief executive to have spoken on the unimpressed motivation of our army, then few weeks later, a GOC of a unit almost slaughtered by his junior officers calls for serious concern from the presidency and defence headquarters to act fast. Why would these boys not be paid their real entitlements, provided with enough food, water, modern gadgets to aid their operations in the field?
It is not a hidden fact that our security men are not properly cared for and that has a serious negative implications on the security of live and properties in the country. We have argued at different fora that the security man dispatched to the street to prevent criminals from operating, protect lives, properties from dangerous people, ensuring that suspected criminals are dully punished; the ones sent into the battle field to fight against both internal and external aggressors must be well catered for, compensated, protected during and after service. We cannot run away from it, it is the tonic needed for these men to triumph in the battle field. No security agent would be willing to die for his country when he is sure that his death will become pain to members of his family. Patriotism cannot be at the expense of foolishness. One of the major reasons government officials loot the treasury is because of the abuse and neglect of retirees after service. Today, what has happened to police pension scam case? To fight corruption we must be encouraged to protect our retirees from neglect and abandonment.
We have faced terrorism in this country before, this is not the first time and, some of those who fought terrorism in this country are still alive and kicking. In situations like this, we needed to have searched and brought them to make contributions on how we can quell the insurgency but, because we have politicized everything, with sycophants having a field day at the corridors of power, we are on our knees because of some under-aged, unschooled boys holding the country to ransom. Mr. President must immediately move in to arrest this ugly situation as this might possibly spread causing serious challenges in the military and country as a whole. The reason for the mutiny tells the story of monumental corruption and mismanagement amongst the senior officers of the military, a demoralized force, uninspired men, an army that is not one.
__________________
Written By Uzodinma Nwaogbe
Disclaimer
It is the policy of NewswireNgr not to endorse or oppose any opinion expressed by a User or Content provided by a User, Contributor, or other independent party. Opinion pieces and contributions are the opinions of the writers only and do not represent the opinions of Newswirengr