Oba Of Lagos Endorses Lagos APC Governorship Aspirant, Akinwumi Ambode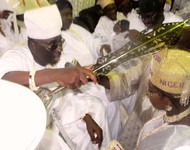 NAN
The Oba of Lagos, Oba Rilwan Akiolu, says Mr Akinwumi Ambode, an All Progressives Congress (APC) member eyeing the Lagos oval house, is a suitable successor to Gov. Babatunde Fashola.
Akiolu spoke on Thursday at the launch of a book on the Biography of Ambode, "The Art of Selfless Service,'' written by Maria Osoba.
The book tells the story of Ambode and the need to leave a legacy that people can learn from.
At the event, Akiolu urged other governorship aspirants of the APC in the state to give Ambode a chance.
"When the APC leader, Bola Tinubu, chose Gov. Babatunde Fashola in 2007 to succeed him, it was met with stiff opposition but today Tinubu has been justified.
"We see a similar character like Governor Fashola in Ambode,'' the Oba said.
Akiolu said that all other aspirants of the party were great but God and the elders had chosen Ambode.
"The APC can go ahead with their primaries but the elders of the state have met and agreed that Ambode should be the next governor of Lagos,''Akiolu said.
In his speech, Ambode said that he was guided in life by the lessons he learnt from his father to be selfless.
"Today, I have a Lagos dream that we can share together,'' he said.
Ambode, who worked in the Lagos State Public Service for 27 years, said he was properly mentored by Tinubu and Fashola.
He was Permanent Secretary, State Treasury Office, Ministry of Finance when he retired in August 2012.
According to the book, Ambode was born at Epe General Hospital, Epe in Lagos State on June 14, 1963 as the sixth child in a family of 10 children.
The News Agency of Nigeria (NAN) reports that the book chronicles the challenging times that he went through and which shaped his life.
Many traditional rulers in the state and some chieftains of the APC were present at the launch.
Meanwhile, the Lagos State Peoples Democratic Party (PDP) described Akiolu's endorsement of Ambode as undemocratic.
The Lagos State Chairman of the PDP, Chief Tunji Shelle, told NAN on phone that it was unfair on other political parties for the Oba to endorse an aspirant of a particular party.
"As a traditional ruler, we had expected the Oba to give his blessings to all aspirants and parties and allow the peoples' choice to emerge as governor of the state,'' Shelle said.