Inspector General Cautions Politicians Against Inflammatory Comments, Says It Will Attract Consequences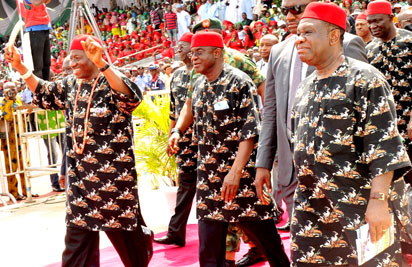 Worried by the incessant resort by some Nigerians to the use of unguarded, inflammatory, and unsubstantiated statements, some of which are capable of causing the breach of public peace,  the Inspector-General of Police, IGP MD Abubakar, CFR, NPM, mni, psc has issued a stern warning to those in the habit of making such statements to desist from doing so forthwith.
A statement signed by Frank Mba, the Force Public Relations Officer on behalf of the police boss, the Force is not ignorant of the fundamental Rights of the citizens such as the Rights to freedom of speech, it will not condone any such provocative, divisive and inciting comments that are clearly uncorroborated by any fact or evidential proof.
The IGP who notes that such statements are capable of desecrating our national symbol and identity and promoting a regime of lawlessness, warns that any of such utterances will be met with appropriate legal sanctions.
The IGP therefore, urges all Nigerians to emulate the former Head of State, General Muhammadu Buhari and others who recently have boldly taken a firm stance against terrorism. The IGP maintains that the present times call for such courage and uncommon patriotism from all opinion leaders, adding that the unrelenting war against terrorism and other related crimes must be won with the cooperation of all Nigerians.