Crisis Between IBB & The Chief Servant Over Son's Emergence As Niger Governor? Aliyu Says Guber Ticket Not For Sale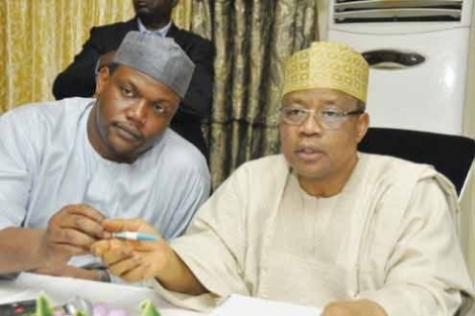 For the first time following the rumored aspirations by Mohammed Babangida, General Ibrahim Banbangida's son to govern Niger State; the state governor Muazu Babangida Aliyu has made a public declaration that the Governorship ticket of the ruling People's Democratic Party (PDP) is not for the highest bidder.
The statements by the governor is coming at a time that the former military dictator, General Ibrahim Babangida is said to be grooming his son to succeed Mua'azu Babangida Aliyu by the 2015 general elections.
Aliyu in Kontagora, on Friday at the Commissioning of the Kontagora township road and street light said those who think that they are rich and can buy votes were in for a surprise ahead of the elections.
It is alleged that the face off between the governor and the General has resulted to public outburst as the chief servant is not willing to hand over the office to the IBB family.
It is also said that the son of the General has no experience to run the state and all he's done is that he lives off his father's stolen wealth and play polo.
Aliyu warned the people, "I warn you to be wary of some people who want to buy you because their parents are rich; examine those seeking your votes and see their contributions to the state before taking a decision".
Although those at the Babangida political camp believe the people of Niger State want Mohammed to run for governor in 2015, but that he is yet to get IBB's support.
The Chief servant assured those gunning for the ticket that the slot was not for sale to the highest bidder just as he maintained that the PDP will not buy votes during the election proper; insisting that the right of the people to make their choice freely would be respected.
The Governor however advised the people of Kontagora and Borgu emirates which make up the Niger North senatorial district to be wary of people going round the communities seeking their support just because they have money.
He also used the occasion to dispel the claim of non performance leveled against his administration and maintained that the governorship seat has been zoned to the Niger North Senatorial District.