Gubernatorial Elections: 114,882 Multiple Registrations Detected By INEC In Ekiti & Osun States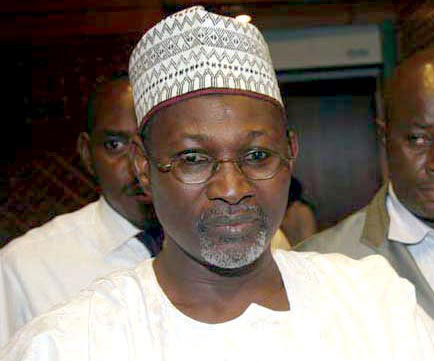 Estimated Reading Time: <1
As we gear up for the Governorship elections in Osun and Ekiti states which will hold in the 9th of August and the 21st of June respectively,  114,882 multiple registrants from the voters registers of both states have been detected and removed. INEC chairman, Attahiru Jega disclosed this to journalists on Monday In Abuja.
He said that after the consolidation of data in Ekiti state's voter registration exercise, a total number of 688,950 voters were obtained. 77,609 multiple registrations were however noticed and removed after running the Advance Fingerprint Identification System, AFIS. 76,091 people recently registered sequel to the commission's Continued Voters Registration, CVR, in the state.
After consolidating the data in Osun, the number of voters was at 1,355,393. When AFIS was run,  37,273 multiple registrants were detected and removed
INEC had 149,755 new voters on the register after conducting the CVR in Osun State.
Prof. Attahiru Jega also stated that that AFIS will still be conducted in both states as he reckoned politicians have devised new means of aiding multiple registrations.  Jega hopes that the efforts of his commission will nullify the misdeeds of the politicians. The INEC chairman had this to say:
"We are now consolidating these data with what we already have and we are going to run AFIS. In fact, in both Ekiti and Osun, we have seen how our politicians were using vehicles and moving people from one polling unit to another. So we are going to again catch multiple registrations." 

"You can see that by their attitude we are wasting resources and time because it costs money to do this thing. We have already decided that we are going to run AFIS in Ekiti and Osun States. We will run AFIS in Ekiti States with the neighbouring states particularly with the local government areas because these ones, it is easier to move there to do multiple registrations." 
Discussing the upcoming 2015 general elections, Jega stated that the de-duplication and consolidation of voters' biometric register has been completed. He claimed that the voters' register is of greater reputation that that used during the 2011 general elections.