Opinion: The Challenges Facing The Nigerian Youth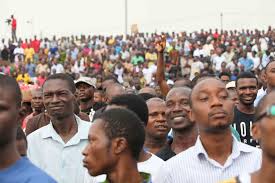 It is sad that a country like Nigeria that claims to be the giant of Africa and six largest producers of crude oil and gas cannot have value for its youths than creating unemployment crises among its growing population. Nigeria 's population is estimated at over 150 million people which the youth constitutes 80 percent of its population yet the government keep making empty political promises to the Nigeria growing youths without fulfillment.
Since Nigeria gained her independence in 1960, only few privileged youths had opportunity to gain political power at the local, state and federal levels through their rich parental backgrounds and nothing else.
The so-called Nigerian youths that claimed to be representing the interest of the Nigerian youths at the federal government are above 50 years that indicated the gloomy future of the Nigerian youth. The ministry of youth and development created by the federal government only concentrating on the high profile over-aged Nigerian youths representing their self-centered interests than the poor suffering youths on the streets of the country. How long will the Nigeria government fool the youths of this country that ought to be the future of today not tomorrow? Most of the high flying youths that are in corridors of power today were those whose parents had political privileges in 60s and still remain active political dictators till date. The 1999 amended Nigeria constitution states that 18 years above is eligible to vote and with a school certificate you can contest for any political position in the country which invariably indicates that anybody above 18 can hold any political position. At least 35 years and above is considered as a youth that can contest for any enviable political position like the president and others. The three tiers of governments in Nigeria has abysmally failed to identify with the Nigeria youth ministry. The present National confab can testify the nonchalant attitude towards the Nigerian youth.
Only few youths are presently representing the 80 percent of youths in Nigeria while some of these leaders at the confab only interested on the three months largesse and nothing else. 95 percent of the votes cast in any given election in Nigeria, the youth constitutes the largest percentage, yet the youths are treated as second citizens and slaves in their own country. President Barrack Obama of USA was only successful in his last election into the white house when he recognized the voice of the USA youths and social media of acceptance.
In Nigeria here, youths are taken to the cleaners, Boko Haram insurgents will continue to increase on daily basis in the Northern region because the so-called political leaders and elders in that region failed to provide for its youths than succumb to callous activities.
Gone were the days when many Nigerian youths see educational pursuits as the only way to success but the reverse is now the case that the more educated as a youth, the more joblessness you are. Even those that promised to help you when you graduate from school will definitely disappoint you immediately you pull off the NYSC uniform for the labour market. The rigorous process of acquiring a university education in Nigeria coupled with the elongated ASUU strikes and others can easily discourage one not to make attempt of going to public universities than private ones which are beyond the reach of the poor. How many Nigerians can afford private Universities? With this rigorous process of acquiring a university education in Nigeria can take a youth that gain admission into the university or polytechnic at 18 or 20 to graduate at 30 and still depending on his or her parents for upkeeps. Even the slogan that says life begins at 40, in the Nigeria youth context, life begins at 50 or 60. Even some Nigerian youths graduate at 35 to 40 still wants to serve the compulsory NYSC and labour market still tells us that you must be 25 years and above to be qualified for the advertised job on the pages of the Nigerian newspapers. Today, falsification of ages and certificates are rampant among the Nigerian youths and politicians which probably leading to different social vices like cybercrime popularly known as Yahoo Yahoo, armed robbery, kidnapping, Boko Haram, oil bunkering and others. Most of our ministers of God are not helping matters to solve this problem in Nigeria rather than enriching themselves only.
Again, how many Nigeria youths have access to the internet? It is sad that a youth will have a vision in this country nobody is ready to assist such person than to kill that dream or discourage such person. This is a country you see a man of above 60 still working in a public or private sector still pretending to be a youth. A man once said he likes working to 70 and would not like to depend on his children and having acquired over 5 houses in Lagos and Delta states. What a greedy man! Not long ago when the federal government elongated the services of university lecturers to 70 instead of 60. Those that ought to retire from public service for the youths to take over are now competing with the growing youths. In all the political parties today whether opposition or not, there is no political or economic value for the youths in Nigeria. Even as more Nigerian youths continue to acquire more degrees and other professional qualifications do not guarantee them job opportunities because we are a country of man no man. One single problem plaguing Nigeria at the present is that those that at the helm of affairs refuse to relinquish power to the younger generation. See how our Nigeria senators were condemning the recent immigration exercise on the stampede that led to the deaths of 17 job seekers across the country. The political leaders ought to retire from politics and allow young people to continue which has prompt Prof. Dora Akuniyili former NAFADAC boss and Minister of Information with her bad health condition still attending National confab for 12million naira for three months.
Our leaders are greedy to the central. The hope of the Nigerian youth is dashed out while at the ages of 30 and 40, a youth still depending on his or her parents for livelihood. But in the developed countries, a youth at 18 and above stays on his or her own while at 35, a youth cannot rent a single room for shelter in Nigeria except few. Today, we have youths looking for sugar mummies and daddies to marry in Nigeria. It was also reported recently how a boy of 19 years old married a foreign based woman of 65. This is a taboo! 2015 is fast approaching; the youths will be the first port of call to exhibit their political interests while their demands are not hearken to after any given elections. Some of these Nigerian voracious politicians have devise a new crook ways of empowering the Nigerian youths by giving them cars and other political liabilities and to the extent of buying guns for these youths to fight their political opponents and nothing else. Only God will judge our Nigerian greedy politicians. Most youths at 30 above find it difficult to marry in Nigeria because the economy is not friendly coupled with the massive corruption among top political office holders in Nigeria, That is why you can see a young man at 25 in Nigeria marrying an older woman because of her riches and influences in the society, Even a boy at 10 aiming to be a million at 18 in Nigeria because of the gloomy society will find ourselves.
Even entrepreneurial lectures among the Nigeria youths do not guarantee any political value in the corridors of powers as far as these gentocrats continue to remain in power till thy kingdom come. To some extent, local, state and federal governments have offered some entrepreneurial opportunities to some privileged youths but that does not guarantee any political will in the country. The years spent in writing Jamb, SSCE, GCE, UME test and university degree is something that the federal government must reconsidered. Most Nigerian youths are living in abject poverty from poor backgrounds. See how people are killed for ritual purposes in Nigeria. Today both Pentecostal and orthodox churches will continue to have youths in their congregation because 30 percent are job seekers looking for holy prayers to connect them to their destined jobs in life and nothing else. If the likes of Obafemi Awolowo at 37, Akintola 36, Ahmadu Bello 36, Tafawa Balewa 34, Okotie Eboh 27, Enahoro 27 and Dr. Nnamdi Azikwe 42 struggle for Independence, then, what is the hope of the present growing Nigerian youths still depending on their parents for food at these ages? In 1966, kadunna Ezeogwu 29 led a coup plot, Muritala Muhammed 28, Theophilus Danjuma 28, Ibrahim Babangida 25, Garba 23, Gen Sani Abacha 23, Shehu Musa Yar' Adua 23, Yakubu Gowon 32, Odumegwu Ojukwu 33, Olusegun Obasanjo 29, Muhammed Buhari 24, MT Mbu, a then foreign affairs minister 23, and Patrick Utomi as a presidential adviser at 23. Some of these people at their 70s and 80s still in power controlling the affairs of the country. What is the hope of the 21st century youths in Nigeria? It is time to take our destinies into our hands.
This is a country that confidence is no longer guaranteed among the Nigeria growing youths call leaders of tomorrow. If you send a 10 years old boy or girl on errand, he or she demands for his or her cut. Is it not sad? The political class must be blamed for their political corruption in Nigeria. Every youth today in Nigeria wants to be rich at all cost because the society or family celebrates those with stupendous wealth without asking the source of wealth. That is why two years ago, PhD holders, master's degree holders and first degree holders that fell in the age brackets of 30 and 35 applied for truck drivers at Dangote groups of companies. What a shameless country called Nigeria?
This is also a country everybody wants to travel outside the country for menial jobs irrespective of their intimidating certificates possessed in Nigeria universities. Youth creativity is not encouraged in Nigeria than celebrating mediocre with unmerited awards. The lack of inclusiveness of the youths in government actions has a major setback to an average Nigerian youth with tall dreams to fulfill.
As far we continue to blame the government, we must not fail to caution our parents that continue to produce children amidst of economic crises in the country. Most parents in Nigeria failed to adopt the family planning policy of Rt.Gen Ibrahim Babangida which indicated that a parent must give birth to two or one depends on his or her income but the reverse is the case in Nigeria. Nigerian parents must caution their sex drives towards producing overpopulated children with depressed future. This is a country where a man married over 78 wives with over 200 children in Nigeria. The Holy Bible tells us to marry one man to one woman while the holy koran states that one man to many wives. Some traditional leaders and rulers have indulged in marrying many wives and concubines. We must learn to curtain our marital vows to avoid youth restiveness in Nigeria. Children are gifts from God but we must control our sexual urges in Life. Marriage is a choice but it is left for us Nigerians to control our choices to avoid unemployment crises in Nigeria among our youths.
________________________________________________________________
Written By Godday Odidi
08058124798.
Lagos.
Disclaimer
It is the policy of Newswirengr not to endorse or oppose any opinion expressed by a User or Content provided by a User, Contributor, or other independent party.
Opinion pieces and contributions are the opinions of the writers only and do not represent the opinions of Newswirengr