APC Must Stop Imposition Of Candidates- Rochas Okorocha Warns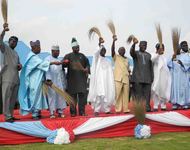 Estimated Reading Time: <1
The Chairman of the All Progressives Congress Governors' Forum, Rochas Okorocha, has urged the party to stop the culture of imposition of candidates in order to move ahead of the competition.
Governor Okorocha made the remarks at the 1st Progressive Governors-Legislative-Civil Society Roundtable in Abuja, on Monday.
The Imo State governor, who said he was aligning himself to comments made by a previous speaker, said the 2015 general election was for the APC to win or lose.
He argued that the outcome of the recent opinion polls conducted by APC's foreign consultant is a true reflection of what is on ground, noting that for the APC to form the government in 2015, it must do things differently.
Okorocha said, "Our victory is in our hands, it is left for us to make it or mar it but I believe we can make it. I believe that this issue of imposition of candidates must stop in APC and that is the only way.
"The masses know us better, when they say this is the candidate that can win the election he is the candidate let there be liberal democracy.
"If we keep doing the same old things the same old way, we will get the very same results."