APC Wants Immigration Recruitment Stampede Investigated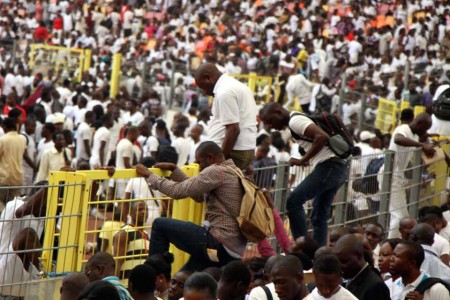 Sequel to yesterday's immigration recruitment stampede which led to the loss of lives, Nigeria's leading opposition party; the All Progressives Congress (APC) today (Sunday) called an investigation into the death of job seekers at venues of the recruitment exercise.
In a statement in Lagos, the APC interim National Publicity Secretary, Alhaji Lai Mohammed blamed the incident on the unemployment problem in Nigeria. The statement calls for the questioning of the interior ministry over the exams arranged in thirty-seven venues across the country.
"Is it true that the minister directly presided over the recruitment?

"Why was such an arrangement made for the test when so many people were invited?

"Could the test not have been done in batches to avoid a stampede?''
These were some of the questions the APC through its statements want answered. The party also wants the Interior Minister, Abba Moro to bear the consequences of the unfortunate incident.