Ogun State Man Arrested With 18 Human Heads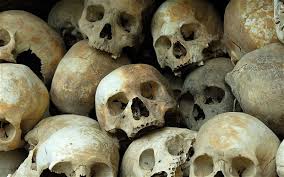 Estimated Reading Time: <1
Officers of the Nigeria Police in Ogun State, South-West Nigeria State arrested a man said to be in possession of 18 human heads.
In a statement issued Thursday, the state's Commissioner of Police, Ikemefuna Okoye, said policemen attached to the Ado-Odo Division of the state command, arrested one Adelani Ayomide, 38, with the bag containing the human skulls.
According to the state's Police Public Relations Officer, Olumuyiwa Adejobi, said the suspect, was caught in the early hours of Thursday, would be transferred the command's Department of Investigation for a "discrete investigation." .
The statement noted that policemen attached to Ado-Odo Division, while on stop-and-search along Ado-Odo-Owode Road, sighted a pedestrian by name Adelani Ayomide, male, 38, of Ilaro, Ogun State, with one bag containing 18 human heads (skulls).
"The suspect will be transferred to the state's Department of Investigation, Eleweran, Abeokuta, for a discrete investigation."
The statement quoted the state Commissioner of Police as assuring the general public of a thorough investigation into the matter.