PPPRA Says The Reappearance Of Long Queues At Filling Stations Is Artificial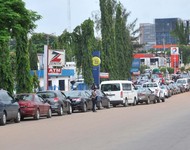 The Petroleum Products Pricing Regulatory Agency (PPPRA) says the reappearance of long queues at filling stations across the country is artificial and uncalled for.
Mr Lanre Oladele, the PPPRA Spokesperson, told the News Agency of Nigeria (NAN) on Tuesday in Abuja that there was no basis for the scarcity currently being experienced.
Oladele said that there was enough stock to keep the country going for days, adding that with the release of allocation of licences to marketers for the first quarter of 2014, there was no reason for the fuel scarcity.
He described claims that the scarcity was due to the delay in the release of import allocation to marketers as false and unfounded.
Oladele said the last allocation was enough to sustain the market till when the next allocation would be released.
"We can assure Nigerians that we have enough to wet the nation, what we have is artificial scarcity to create false impression whereas the entire nation is wet with the products."
He said contrary to insinuations by marketers that their allocations for the third quarter of 2013 expired on Dec. 31, 2013, they actually covered transactions up to January.
Oladele staid that the allocation was usually done in such a way that it would overlap into another quarter, to make provision for any exigency.
According to him, the marketers create the impression that allocation has been delayed for over one month and they engaged in hoarding of the products to create false impression.
He advised Nigerians not to engage in panic buying, adding "what we have is artificial scarcity, we have enough stock to keep the nation wet for days''.
Similarly, the Pipeline and Products Marketing Company (PPMC), a subsidiary of the Nigerian National Petroleum Corporation (NNPC) responsible for the supply of the products, said there was enough stock.
Mr Nasir Imodagbe, the PPMC Spokesperson, said "we have robust supply of fuel, same with NNPC to serve the country for days. I don't know where the issue of scarcity is coming from.''
Imodagbe warned marketers to desist from hoarding fuel, adding that anyone caught would face the full wrath of the law.
"We are appealing to Nigerians not to engage in panic buying because there are enough products to keep the country moving.''
Meanwhile NAN checks revealed that fuel tankers were seen at some mega filling stations in the FCT waiting to discharge fuel.