To Beef Up Security, Nigerian Police Deploy Sniffer Dogs To Six Airports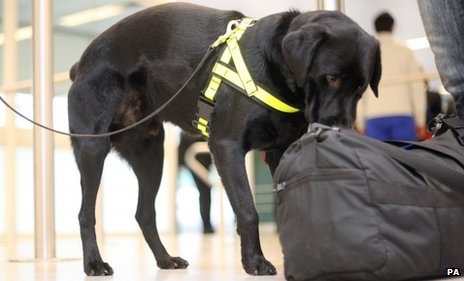 Estimated Reading Time: <1
NAN
The police on Thursday commenced deployment of sniffer dogs to some international airports across the country as part of efforts to beef up security in those areas.
The News Agency of Nigeria reports that more than 20 dogs were deployed to the Nnamdi Azikiwe International Airport, Abuja.
At the occasion, the Inspector-General of Police, Mr Mohammed Abubakar, said that the dogs would be deployed to five other international airports in the first phase.
The airports are Lagos, Port Harcourt, Kano, Jos and Enugu.
Represented by Mr Michael Zuokumor, DIG (Operations Department), Abubakar said that the dogs would help in reducing crime at the nation's airports as they would be used for extensive patrol.
He said the dogs would be used to detect narcotics and explosives, check arms smuggling through the airports, rescue operations and to bolster the war against terror.
The inspector general also said that the dogs would enable the police to apprehend suspects, including those who attempt to evade arrest.
Abubakar said that the deployment of the dogs was in line with international best practice.
He added that it would provide security for passengers and protect critical infrastructure at the airports.
He charged the handlers of the dogs to respect the fundamental rights of passengers while carrying out their duties.