2013/2014 Zenith Women Basketball League Kicks Off March 19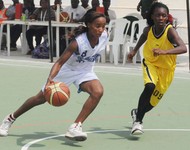 Estimated Reading Time: <1
NAN
The Nigeria Basketball Federation (NBBF) has fixed March 19 as the date for the commencement of the 2013/2014 Zenith Women Basketball League which will now have 16 teams.
This is contained in the communiqué issued after the federation's three-day Stakeholders' Forum held at the National Institute of Sports' Auditorium at the Abuja National stadium.
The communiqué, signed by the Media Officer of NBBF, Ehidiame Omorodion, said the 16 teams would play in the first two phases of the league.
It said eight teams would qualify at the end of the phases to play in the Final Eight Play-Offs.
The communiqué also stated that the 2013/2014 DSTV Men's Basketball League would commence on March 28, with a pre-season match at the National Stadium in Lagos.
"The 2013/2014 DSTV Premier Basketball League will commence on Feb. 28 with a pre-season match at the National Stadium in Lagos between two premiership teams.
"The regular season will commence on March 7 at the Atlantic and Savannah Conferences,'' it added.
The communique further said all participating teams were expected to upgrade their facilities ahead of their final inspection by the NBBF and sponsors.
It also said they would be responsible for mobilising their fans and ensuring sustainable followership of the league games.
"In support of this, DSTV has introduced a cash reward of N500,000 and other incentives for the team with strongest fan base,'' the communiqué added.
The News Agency of Nigeria (NAN) reports that the DSTV league would be having two newly-promoted teams, Kwara Falcons in the Atlantic Conference and Gombe Bulls in the Savannah Conference.
The communique also announced the ratification of the relegation of Comets and Yelwa Hawks from the Atlantic and Savannah Conferences.
It also disclosed that the premier league sponsor, DSTV, has introduced the "Supersport Man of the Match Award'' for the best individual player in every match
The communiqué further said the federation would appoint a Technical Director to accelerate its developmental projects.
"In order to accelerate the various developmental projects of the federation, a Technical Director to oversee all the technical endeavours of the federation is to be appointed.
"And the new partnerships being developed by the federation are intended to open to new funding windows and attract additional support for the federation's initiatives,'' it said