Anti-Gay Law: Netherlands Confirms Asylum Applications by Nigerians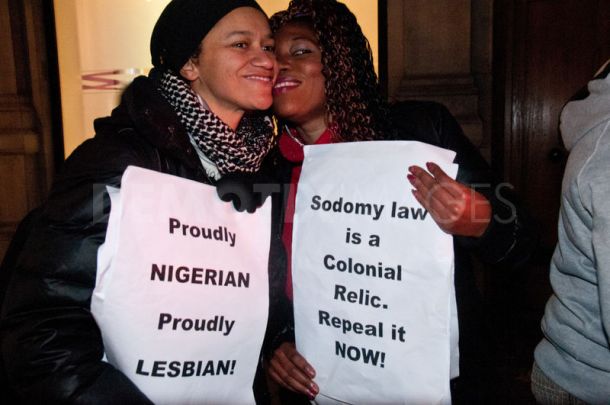 The Royal Embassy of the Netherlands in Nigeria has confirmed that it has received some applications for asylum by some Nigerians who fear persecution and a backlash following the signing into law the anti-gay bill by President Goodluck Jonathan.
The embassy in an email newsmen, said it was neither involved in processing any application for asylum seekers nor does it have the power to grant asylum to applicants.
Since last month when Jonathan assented to the Same-sex bill, Nigeria has come under criticisms from the United States and some European countries for criminalising same-sex unions.
Responding to concerns of a possible upsurge in the number of applicants seeking to flee Nigeria in the wake of the anti-gay clampdown, Netherlands said it could not predict whether there would be a rise in the number of those who want to flee Nigeria because of the new dispensation, adding that doing so would be mere speculation.
It however noted that even if there was an increase, it was expected to decrease as applicants become more aware about the modalities for asylum seekers in the Netherlands.
The email, which was received from the embassy, read: "The embassy has received a small number of applications for asylum by Nigerians. It is not possible to apply for asylum at the embassy. We inform the applicants likewise but we do not register the number of applications made.
"At this stage, it is not possible to make predictions. That would be speculation. However, when people become increasingly aware that it is not possible to apply for asylum at the embassy, one could expect a decrease. The embassy is not involved in the asylum process, neither in the application nor in the determination of the authenticity of claims."
Also, a diplomat at the Canadian High Commission told THIISDAY that although there had been no significant increase in visa applications to Canada in recent times, asylum seekers could only obtain such privileges in Ottawa, on arrival in Canada.
"We cannot grant asylum to anyone here on any grounds, that is the prerogative of Ottawa. Such a Nigerian must have already satisfied regular visa requirements and must have travelled to Canada, he or she as the case may be, can now apply to stay back for fear of persecution upon return to Nigerian.
"But there would be investigations to ascertain if the person is gay and not just making claims," the diplomat said.