Malam Nasir El-rufai 2015 Gubernatorial Posters Flood Kaduna State [Look]
Estimated Reading Time: <1
Wait!! is El-rufai contesting as governor of his home state?
Well as observed Saturday in Kaduna state,the posters of the former Minister of the Federal Capital Territory Minister are all over Kaduna.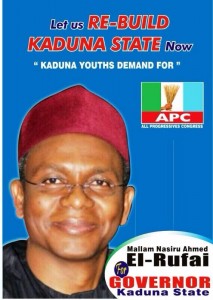 The posters reads, "let us rebuild kaduna state now, kaduna youths demand Malam Nasir Ahmed El-rufai as Kaduna governor"
Kaduna state is a state governed by the ruling People's Democratic Party, led by Governor Yero, but what will become of his likely second term ambition will be determined by next years elections.
El-rufai, the interim deputy national secretary of the opposition All Progressives Congress, APC, has always said he is no longer interested in a public office but it seems the posters suggest otherwise.
The Chartered Quantity Surveyor, who prides himself as a certified ruffler of feathers was not too long squeezed by officials of the State Security Service – over comments he made about the forth coming elections, suggesting violence.
Since his 15 hour detention with the state security, the rather witty ruffler of feathers has refused to comment about the arrest and what transpired with the SSS.