Chukwudi Nwokoye: On the Nigeria's Same-Sex Marriage Prohibition Act 2014 otherwise known as Gay Marriage Act
Estimated Reading Time: <1
By Chukwudi Nwokoye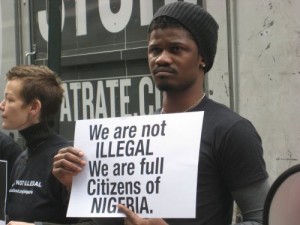 Gay Marriage is a non-starter in Nigeria! It would never happen with or without the above Act banning it! It would not work in Nigeria, at least in my generation. This is because our culture frowns at it, our morals and religious teachings forbid it. The family structures we have subscribes to a man as the husband and head of the family; and a woman or women as his wife/wives to procreate and fill the earth.
As a practical matter, I am yet to see a father or family that would readily accept "bride price" on his son from a man! I am waiting to see that father that would accept a bride price on his daughter from another woman. I am also looking for those elders and family members that would accompany their relatives to those marriages! How about that priest, imam, pastor or reverend that would perform the matrimonial rites on same sex people in his church? That would be his last act as a priest or imam!
All these hullaballoos about banning gay marriage is an over-kill. It is a political 'opium' of the long suffering people of Nigeria. The politicians use it as a wedge issue and a 'feel good' issue to make us forget our sorrows and feel like they are doing the job we sent them to do. The politicians are smiling home with billions of naira of our commonwealth and we are here rejoicing and praising them because they said "aye" to the bill banning gay marriage? They didn't even raise their hands, they only said "aye"! This amounts to using us as if we are dogs. They took the juicy meats and threw the bones out to us as dogs and we are rejoicing while they are laughing at us.
My Senator cannot come back and convince me that he is working hard for me in the senate with "saying 'aye' to ban gay marriage" to show for my vote; after billions of naira meant for my constituency is unaccounted for (except for VIP toilets in select schools) Lol.
I cannot praise GEJ for signing the bill when the 2nd Niger Bridge he promised my state in still in limbo and the 1st Niger Bridge is shaking; I cannot jump in his band-wagon when the River Niger is not dredged, no operational Seaport at Onitsha, the Akanu Ibiam International Airport, Enugu, is still struggling to take off, the federal roads projects are still ongoing, the rail stations are still in coma and our houses are still threatened by gully erosion.
We have no light, no food, no water and we are smiling about GEJ signing a bill that is redundant? Boko Haram is busy killing off a generation of our people, our hospitals are glorified clinics and death beds, our roads are death traps and our air travel nko? Don't get me started on our educational system and the rot! Our youths are restive and have no jobs to put food on their tables and shelters over their heads. They took to violent crimes including kidnapping/armed robbery/thuggery and we have no answer to those vices.
Gay life style on its own is sickening to even think of or imagined. Some people argue that it is good to stop them before their abomination consumes all of us. Well and good, but who would go house to house peeping through the doors or windows to see who is "doing" who? Which police do we commission to do that? A Morality Police Commission would be set up to achieve that? It is an exercise in futility. We already banned prostitution, did it solve the problem? We have a law against bigamy, but how many people have been prosecuted for bigamy? The answer is: only one person for over 50 years of the law! We can as well ban fornication or adultery as if we could commission someone to be sniffing around house to house. It is not practical!
The gay people have been in our midst for a long time but we laughed them off as "nwoke nwanyi", "ome ka nwanyi" etc while they do their things "down low". I support closing down Gay Clubs etc on the grounds of public morality, but as for converting gay persons into criminals, killing or maiming them, discriminating against them in work places, NO, as it is against their human rights no matter how we feel about them. They are human beings…..only that they are abnormal or maladjusted.
@Chukwudi Nwokoye 2014 (nwokoyeac@Hotmail.com)