Nigerians Visit Ghana For Education Purposes – Envoy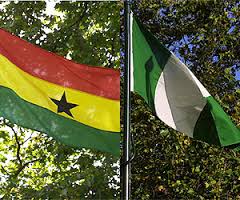 Estimated Reading Time: <1
NAN
Lagos – Many of the 2,672 Nigerians who got attestation to visit Ghana in 2013 did so for religious and education purposes.
Alhaji Abdulai Abukari, Consul-General, Republic of Ghana Consulate in Lagos, disclosed this in Lagos on Sunday.
He said that the Nigerians were from educational institutions and church groups, among others.
"Ghana, in 2013, became a destination country to many Nigerians for religion, education, tourism and leisure.
"But out of a total number of 2,672 Nigerians that visited our country in 2013, we had the highest number from different Nigerian churches and those wanting to study in our educational institutions or on excursions.
"What this means is that Nigeria and Ghana are also promoting regional cooperation in areas of religion and education.
"Both countries have and will continue to strengthen their relations in 2014 and in the years ahead,'' he said.
The consul-general said that the Ghanaian Government and people were impressed with the current level of relationship with Nigerians.
Abukari said that some Nigerian pastors had become household names in Ghanaian communities with large following.
The envoy said that there were many young Nigerians studying in prominent Ghanaian higher institutions and many more had indicated interest in doing so.
"This is because of the already existing educational standards in Ghana.
"We will continue to create the right environment to support young Nigerians in Ghanaian institutions,'' he said.