ABS Midfielder, Abdullahi Joins Tornadoes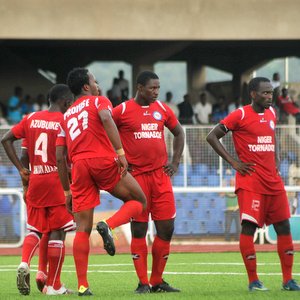 By Legheri Onyamom
ABS midfielder, Ayo Abdullahi has joined Nigeria National League side Niger Tornadoes.
Abdullahi had been approached by a couple of clubs following ABS' relegation from the Premier League, but decided to move to Minna because of coach Godwin Uwua's reputation of developing young players.
He told supersport: "I have joined Tornadoes and my main reason for doing so was to work with Godwin Uwua.
"He is a well known coach and most of the players who have played under him have said good things about him.
"Most importantly, he has nurtured many young players to stardom. I look forward to playing under him at Tornadoes."
He said he was impressed by the team Uwua was putting together and is confident they would be serious contenders for promotion.
"This will be our second season in the National League, and the players are determined to get the club back to the Premier League," Abdullahi told supersport.com.
"We have a good mix of youth and experience and play attractive football.
"I played in the friendly against the home-based Eagles and was impressed by our overall game.
"I'm confident we can take the club to the top flight with hard work and determination."
Abdullahi also praised his new employers for taking the welfare of the players seriously, adding that it was the main problem that led to ABS' relegation.
"It is not as if the money Tornadoes have offered is too much, but at least there is a plan to ensure regular payment of our entitlements.
"We have been given definite dates when to expect salaries and that our signing-on fees would be paid in installments.
"A brand new bus has also been procured for the team. These things help motivate the players.
"This was the main problem that derailed ABS.
"We were always being owed and the players were mostly dispirited. I'm still owed all of my signing-on fees from last season," he said.